You are currently browsing the tag archive for the 'the word of God' tag.
"The key to joy in God is God's omnipotent, transforming grace, bought by his Son, applied by His Spirit, wakened by the Word, and laid hold of by faith through prayer"
~ John Piper, When I Don't Desire God: How to Fight for Joy, 138

"The Bible is alive, it speaks to me; it has feet, it runs after me; it has hands, it lays hold of me." — Martin Luther
I remember early on as a follower of Jesus, I would hear people reference their desire and ability to go to a quiet place with only their Bible and emerge after four hours refreshed, renewed, and revitalized. If I'm honest, the prospect of this scenario seemed overwhelming and the direct opposite of refreshing. I think this was mainly because of my lack of perspective on the benefits and blessings of a time of studying.
Studying is one of the most important areas in which to figure out a sustainable rhythm. When I've attempted to read through the Word with no real plan, I've found myself lost, confused, and bored. A breakthrough came when I started to ask the Lord to show me what He desired for me to see. When we read God's Word, we must continually say, "This is talking to me." The Bible is not an impersonal story about the past; it is the living Word of God. It is an ongoing narrative of which we are a part. Our hope is to gain insight on life and direction through the revealed Word of God. Eugene Peterson says it best: "The goal of reading the Word is to listen for the voice of the God who speaks." There is a reason that Psalm 119 refers to the Word of God as a lamp to our feet and light to our path. Scripture helps to guide and direct us as we seek to understand the richness of its truth.
The Bible is filled with reminders of the significance and power that accompanies studying, learning, and resting in the Scripture and precepts of God. Paul teaches in Colossians 3:16, "Let the word of Christ dwell in you richly, teaching and admonishing one another in all wisdom, singing psalms and hymns and spiritual songs, with thankfulness in your hearts to God." Studying God's Word allows us to ingest his truth so that it can permeate all of our inner self. When we focus on Scripture, it reminds us of who God truly is and who we are in light of that truth. The Word gives us understanding that helps us to teach and guide others according to God's principles. Understanding the Word produces thankfulness that causes us to sing and encourage one another with God's promises.
"We know who we are praying to only if we learn it in the Bible. And we know how we should be praying only by getting our vocabulary from the Bible. None of this should be a surprise, since we see this basic dynamic played out in the development of every new human being."
~ Timothy Keller, Prayer: Experiencing Awe and Intimacy with God, 54-55.
"…do not be anxious about anything, but in everything by prayer and supplication with thanksgiving let your requests be made to God. And the peace of God, which surpasses all understanding, will guard your hearts and minds in Christ Jesus" (Philippians 4.6-7).
DO NOT BE INFLUENCED BY THE IMPORTANCE
OF THE WRITER, AND WHETHER HIS LEARNING
BE GREAT OR SMALL, BUT LET THE LOVE OF
PURE TRUTH DRAW YOU TO READ. DO NOT
INQUIRE, "WHO SAID THIS?" BUT PAY ATTENTION
TO WHAT IS SAID.
MEN PASS AWAY, BUT THE WORD OF THE
LORD ENDURES FOREVER.
~ THOMAS À KEMPIS
THE IMITATION OF CHRIST
"The law of the LORD is perfect, reviving the soul; the testimony of the LORD is sure, making wise the simple"
~ Psalm 19:7 (ESV)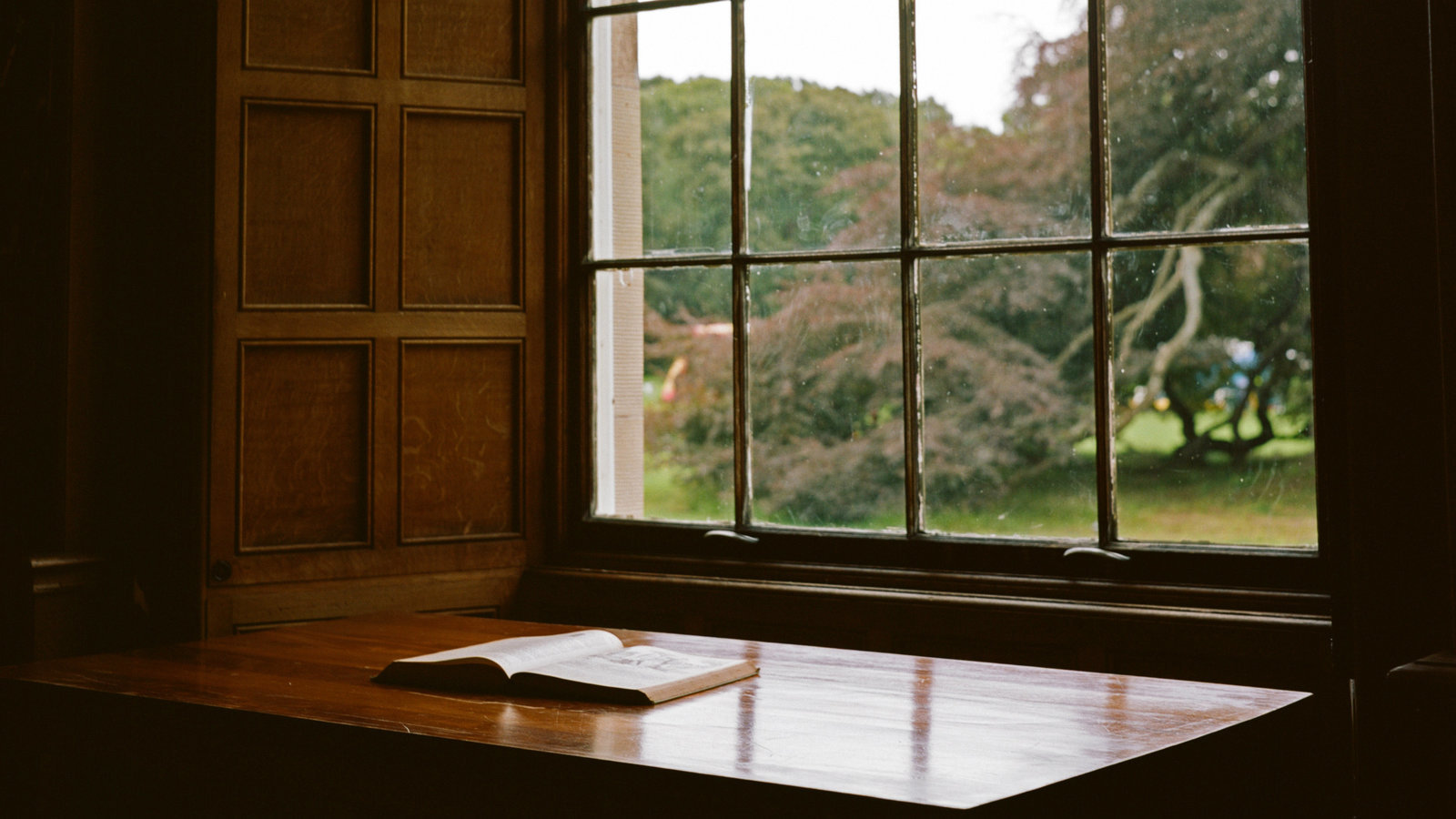 Open my eyes, that I may behold wondrous things out of your law. (Psalm 119:18)
All of us know what it is like to read without seeing "wondrous things."
We have stared at the most glorious things without seeing them as glorious. We have seen unspeakable love without feeling loved. We have seen immeasurable wisdom and felt no admiration. We have seen the holiness of wrath and felt no trembling. Which means we are seeing without seeing (Matthew 13:13).
This is why we must weave the thread of God-dependent prayer into our reading: "Show me your glory" (Exodus 33:18). God has made plain that the path to seeing his peculiar glory is prayer. How much light have we forfeited by failure to pray over the word we are reading! "You do not have, because you do not ask" (James 4:2).
Glory Shines in the Meaning
True understanding of the apostolic word is a free gift of God. We do not find it on our own. It is given. That is why we pray, "Give me understanding." But the divine gift of understanding does not nullify our natural effort to understand the Bible. We see this in 2 Timothy 2:7: "Think over what I say, for the Lord will give you understanding in everything."
When we pray for God to show us his glory in the Scripture, we are not asking him to bypass the meaning of the text, but to open the fullness of the author's meaning. Therefore, in our quest to see and savor the glory of God in Scripture, we pray for his help to grasp the basic meaning of the words. Glory does not hover over the text like a cloud to be seen separately from what the authors intended to communicate. It shines in and through what they intended to communicate — their meaning.
Even this is not quite the way to say it, because the glory is part of what they intended to communicate. But I think it is helpful to distinguish the basic meaning of a passage, on the one hand, and the worth and beauty of the message, on the other hand. I know they are not really separable. And both are part of what the author wants us to experience. Perhaps an illustration will help us see why I think the distinction is important, and how it relates to prayer.
Heaven or the Countryside?
In Philippians 1:23, Paul says, "My desire is to depart and be with Christ, for that is far better." Suppose some careless reader knew that Paul was in Rome and assumed Paul meant that his desire was to depart from Rome and be with Christ in a more rural, peaceful place than the dangerous urban center of the empire. And suppose the reader feels that this is a wonderful thought, full of sweet implications about the value of nature and peacefulness for the soul's refreshment.
Well, he would be wrong. First, this careless reader got the basic meaning wrong. Paul did not intend to say anything about departing from Rome to the countryside, or about the value of rural peacefulness. He intended to say that he desired to depart this life and be with Christ in heaven. So our reader simply missed Paul's intention.
But it gets worse. On the basis of the wrong meaning, this careless reader also saw a kind of glory that was not there. He felt a sweetness about peaceful, rural living for the refreshment of the human soul. That feeling has no basis in this text. He has seen something he would call glorious or wonderful. But the glory and the wonder are not there.
The point of that illustration is this: when the psalmist prayed, "Open my eyes, that I may behold wondrous things out of your law" (Psalm 119:18), he did not mean that the sight of wonders could skip the natural process of careful reading. Therefore, prayer does not take the place of careful interpretation. Prayer serves careful interpretation. We pray not just for the sight of glory, but for the help in grasping the meaning through which the glory shines.
The way God illumines the text is by showing what is really there. This means that when we want to make a case for how we understand a text, we must show what is really there. One good, solid grammatical argument for what the text means outweighs every assertion that the Holy Spirit told me the meaning. The reason that statement is not irreverent is that it takes more seriously the glorious work of the Holy Spirit in inspiring the grammar than it does the subjective experiences of an interpreter who ignores it.
Prayer Improves Every Method
However we describe the levels of a text's meaning, prayer is fruitful at every level. God not only opens the eyes of our heart to see his glory; he also guides us providentially in the whole process of interpretation — even the most natural parts. He is sovereign over all of it. He governs every part of our textual observation or thinking or research. Jesus said that not a sparrow falls to the ground apart from our heavenly Father (Matthew 10:29). So it is with Bible reading. We do not make the smallest discovery without God's providential guidance.
So we should be praying for God's guidance repeatedly during the entire process of reading and studying the Bible. The number of things you could pray for to help you see what is in the Scripture is as great as the number of strategies for getting insight. God can make all of them more fruitful, if we ask him. This would include:
Prayer to help you pay close attention to all the features of a text.
Prayer to guide you to notice parts of the text that are especially illuminating.
Prayer to lead you to other passages in the Bible that would shed light on the one you are reading.
Prayer to lead you to other books or sermons or lectures that would be useful in shedding light on some problem you have run into.
Prayer for experiences, or a reminder of experiences you've had, that would make what you are reading more real.
Prayer for friends who could study the Bible with you and help you see things you haven't seen.
Prayer against any sinful habits or inclinations that might blind you to a part of Scripture you would find uncomfortable.
Prayer that as you write the text down in your journal, you would notice things you missed in simply reading.
Anything that helps you pay closer attention to what is actually written, pray about this. Ask God to make it more illuminating than it would be without his help.
Of course growing as a Christian involves gaining more knowledge of God's Word; it implies a life of prayer and witness. But these are all the results of something more basic. Being a Christian means knowing God. Growing as a Christian means increasing in our desire to know God. This is the sum of the Christian life. Jesus himself said: "This is eternal life: that they may know you, the only true God" (John 17:3).
The true men and women of faith are "the people who know their God" (Daniel 11:32). That is why, in the Old Testament, one of the anticipated blessings of the new age which the Messiah would inaugurate was that then men and women would "know the Lord" Jeremiah 31:34). This is the heart of the Christian life. It is fundamental to all spiritual growth. If we are not growing in the knowledge of God, we are not growing at all.
~ Sinclair B. Ferguson, Grow in Grace, 40-41.