You are currently browsing the tag archive for the 'the importance of prayer' tag.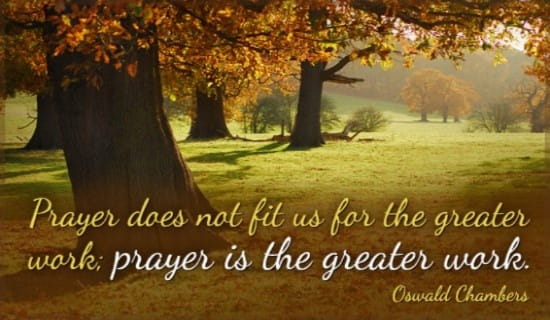 Someone once wrote that "A church is never more like the New Testament church than when it is praying." Worship is important. The teaching of God's Word is crucial in every church. So is fellowship and evangelism. The Bible is also clear that every church must be committed to prayer. Colossians 4.2 says: "Continue steadfastly in prayer, being watchful in it with thanksgiving." Prayer is to be like breathing for the follower of Jesus!
Praying is a means from God to sustain us even in the darkest of times. Prayer is essential for the power and presence of God to be evident in our lives and the life of the church. If we do not pray, then we are essentially dead in the water. Often prayer is something we do after we have exhausted our own resources, but as Oswald Chambers wrote, "Jesus wants us to pray before we do anything at all."
Jesus is our example of individual prayer. Luke 5.16 says that "Jesus would withdraw to desolate places and pray." Not only are we to pray privately like Jesus, but we are to place an invested emphasis on praying together as a church Corporate prayer was an essential activity of the first church. D.A. Carson wrote, "Prayer meetings were the arteries of the early church. Through them, life-sustaining power was derived." We absolutely must pray together—or God will certainly pass us by.
Charles Spurgeon wrote…
The condition of the church may be very accurately gauged by its prayer meetings. So is the prayer meeting a grace-ometer, and from it we may judge the amount of divine working among the people. If God be near a church, it must pray. And if He be not there, one of first tokens of His absence will be slothfulness in prayer!
~ Bryan
"God shapes the world by prayer. The more praying there is in the world the better the world will be, the mightier the forces against evil."

"We tend to use prayer as a last resort, but God wants it to be our first line of defense. We pray when there's nothing else we can do, but God wants us to pray before we do anything at all.
Most of us would prefer, however, to spend our time doing something that will get immediate results. We don't want to wait for God to resolve matters in His good time because His idea of 'good time' is seldom in sync with ours."
O what peace we often forfeit,
O what needless pain we pain,
All because we do not carry
Everything to God in prayer!
"When prayer has become secondary, or incidental, it has lost its power. Those who are conspicuously men (and women) of prayer are those who use prayer as they use food, or air, or light, or money"
~ M. E. Andross
"Like a prescription, prayer eases our concerns before repairing our circumstances."
~ John Onwuchewa, Prayer, 36
Peter was in prison, and Herod had probably ordered his execution for the next day.
Sounds like an impossible situation, doesn't it? Imagine being a brand-new, multiplying church with the entire Roman army against you, and 16 soldiers surrounding your leader-who happens also to be in chains.
How did this church in Acts 12 respond? They didn't have any armies or weapons. They said, "We have an impossible situation. Our beloved leader, mightily used by God, is in prison. We will pray earnestly unto God specifically for His deliverance."
There are several principles of prayer in this passage. First and foremost, the church prayed "to God." They knew the One to whom they were praying-His power, His authority, His great compassion and love. But there's also another principle they practiced that we can learn from: They prayed "earnestly" (Acts 12:5).
The word "earnestly" here is a compound word in Greek. It has two parts, the first part meaning "out" and the second part meaning "stretched." It's the idea behind our English word for tension. It's translated in 1 Peter 1:22 as deeply or fervently, and it's used in Luke 22:44 where Jesus prays "in anguish" and "more earnestly" in the Garden of Gethsemane.
The image given is of focused and passionate prayer-coming to God with all your heart, all your soul, and all your mind, and saying, "God, I mean business! I want what I'm asking of You; I'm not just going through the motions."
Those of us who have children may remember a time when a little one's temperature rose to 102, then to 103, and then to 104. You may remember how our prayers changed as the temperature went up. Have you ever sat there with a little baby who's burning up? We don't pray, "O Lord, we would really like, if it's in Your will, according to Your sovereign plan, to bless this child according to Your purposes," do we? We pray, "O God, save my child!"
That's what this word "earnestly" is saying: We need to come to God like we mean it. We need to know Who we're really talking to, and then earnestly-with our soul stretched out before God-to say, "God, hear our cry."
Earnest Together
A crucial aspect of the church's earnest prayer was its corporate nature. They were united in their earnestness. The early church believed that it was the most powerful force on this earth, so when the body of Christ gathered and approached Jesus and the Father in the power of the Holy Spirit, they asked in unity.
"The secret of success in Christ's Kingdom is the ability to pray." 
"True prayer is neither a mere mental exercise nor a vocal performance. It is far deeper than that – it is a spiritual transaction with the Creator of Heaven and Earth."