You are currently browsing the tag archive for the 'prayer' tag.
A prayer for Sunday morning
Today we celebrate Your magnificent splendour
For by Your hand You placed time in motion
From the first day of creation until this day
Your creative wonders have filled the universe
Today we celebrate Your mighty power
For by Your hand you raised Christ from the grave
From resurrection Sunday until this day
Your love has given life to all mankind
Father we thank you for today
We give this special day over to You
May we rest in Your presence
Bathe in Your goodness
And celebrate Your eternal life
This day and always
Amen!
(A modern prayer for Sundays from http://www.lords-prayer-words.com)
"Many times, prayer is the most practical thing you 'do' to encourage change."
~ Mark Dever & Jamie Dunlop, The Compelling Community, 132.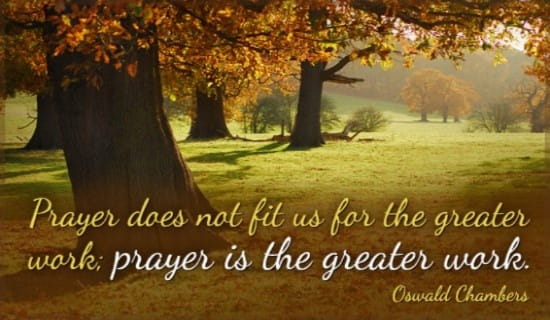 "Prayer is the way you defeat the devil, reach the lost, restore a backslider, strengthen the saints, send missionaries out, cure the sick, accomplish the impossible, and know the will of God."
"Oh for a great and general revival of true religion…Let us pray for such a visitation of the Holy Ghost with our whole souls. It is not only desirable, it is essential; we must either be revived by the Lord Himself, or the churches will descend until error and ungodliness swallow them up. This calamity shall not happen but only divine grace can avert it."
"The one thing needful for the church, and the thing which, above all others, men ought everywhere to seek for with one accord and with their whole heart, is to be filled with the Spirit of God."
~ Andrew Murray, The Full Blessing of Pentecost, vii.
"Leaders must be released from the idea that they must be great prayer warriors before they can begin to call others to prayer." 
"Prayer is the forerunner of mercy. Turn to sacred history, and you will find that scarcely ever did a great mercy come to this world unheralded by supplication."
First Responders Homicide PrayerWalk: Monday, June 4th, 6:00 PM at 11th & Farnam (near South Entrance to Gene Leahy Mall); Omaha, NE
Police and News Reports: One killed, Six injured in Old Market area.
20 yr-old Jasmine Harris died at NMC following a shooting at 11th & Farnam on Saturday, around 11:45 PM.  Six others were injured following an altercation which escalated to gunfire.
The six other victims were all treated for non-life threatening injuries at area hospitals and have identified as:
Dewayne Staley Jr., 28
Makye Thomas, 15
Gregory Austin, 19, possible non-gun related injury
Kristen Prater, 16
Velia Vasquez,18
Robert McGhee-Gould, 20
11th & Farnam is one of the the street-side entrances to along the south side of the Gene Leahy Mall right by the two long slides where many of us have taken our families.
This incident may be related to gun violence in the area about a month ago. In 2012 two gangs squared off in a nearby parking lot which left a 19-year-old dead on the first weekend of the College World Series.
Directions:  At 6:00 PM, meet at 11th & Farnam in front of the south entrance to the Gene Leahy Mall. 
It is my understanding that family and friends will be at the PrayerWalk so we would appreciate those who can help help us care for those grieving and pray into this neighborhood suffering violence from human bloodshed.
Click here for a Google Map, then click on the address on left side: 
Thank You for helping to make a difference in reducing violence in our city.
Blessings,
Dave Gehrls
Christ For The City Omaha
First Responders Homicide PrayerWalks
402-651-3136
dave@cfci.org
"Yes, even as we reside as sin-filled people in a sin-sick world, God offers us the Holy Spirit to watch over our lives in ways we don't expect or deserve. Inviting his empowering presence, however, is a matter of the will and a reflection of the heart. If we deliberately avoid or reject his presence his presence, he will flee from us. It is our daily choice to invite him in–come, Holy Spirit!