You are currently browsing the category archive for the 'Worship' category.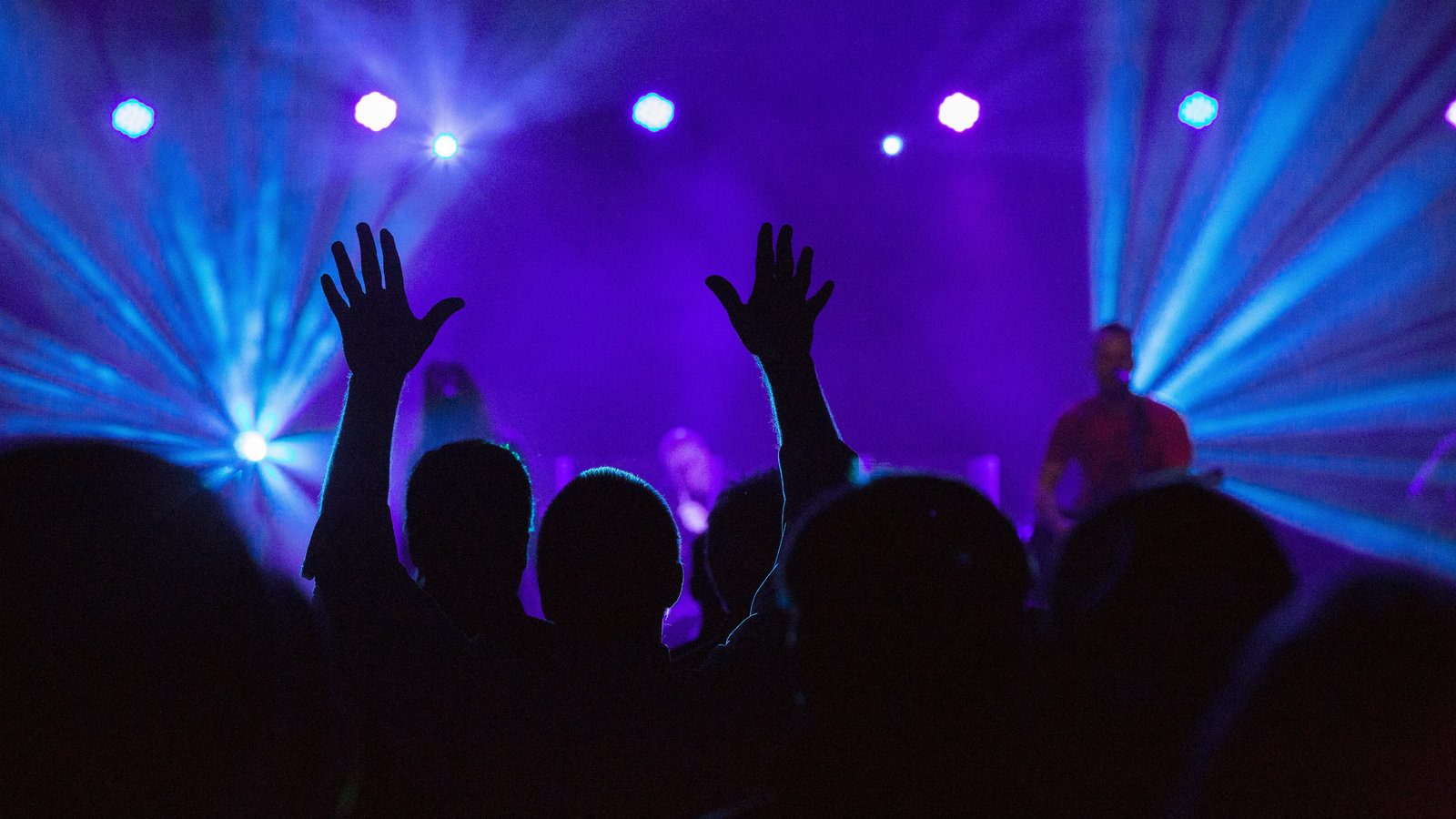 Before C.S. Lewis was a Christian, God's demand for worship was a great obstacle to his faith. He said it seemed to him like "a vain woman who wants compliments." But then as he discovered the nature of worship, the question about God's seeming vanity (or megalomania) was also answered. He wrote,
The most obvious fact about praise — whether of God or anything — strangely escaped me. I thought of it in terms of compliment, approval, or the giving of honor. I had never noticed that all enjoyment spontaneously overflows into praise. . . . The world rings with praise — lovers praising their mistresses, readers their favorite poet, walkers praising the countryside, players praising their favorite game — praise of weather, wines, dishes, actors, horses, colleges, countries, historical personages, children, flowers, mountains, rare stamps, rare beetles, even sometimes politicians and scholars.

My whole, more general difficulty about the praise of God depended on my absurdly denying to us, as regards the supremely Valuable, what we delight to do, what indeed we can't help doing, about everything else we value.

I think we delight to praise what we enjoy because the praise not merely expresses but completes the enjoyment; it is its appointed consummation. It is not out of compliment that lovers keep on telling one another how beautiful they are; the delight is incomplete till it is expressed. (Reflections on the Psalms)
In other words, genuine, heartfelt praise is not artificially added to joy. It is the consummation of joy itself. The joy we have in something beautiful or precious is not complete until it is expressed in some kind of praise.
Answer to God's Seeming Megalomania
Lewis saw the implication of this for God's seemingly vain command that we worship him. Now he saw that this was not vanity or megalomania. This was love. This was God seeking the consummation of our joy in what is supremely enjoyable: himself.
"There is none like you among the gods, O LORD, nor are there any works like yours. All the nations you have made shall come and worship before you, O LORD, and shall glorify your name. You are great and do wondrous things; YOU ALONE ARE GOD!!"
(Psalm 86.8-10)
"To worship is to quicken the conscience by the holiness of God, to feed the mind with the truth of God, to purge the imagination by the beauty of God, to open the heart to the love of God, to devote the will to the purpose of God."
by GREG GILBERT
Every Sunday morning, I lead the congregation of Third Avenue Baptist Church in a "pastoral prayer." I pray for many things during that time—congregational events, members who are suffering, evangelistic opportunities, various officials in government, missions opportunities, even events in the nation's headlines. The part of the prayer that elicits the most comment, however—both positive and out of sheer confusion—is when I pray for another evangelical church or two meeting in the city of Louisville.
Each week, I choose one or two churches and pray for their services that day. I pray for the church to be attentive to the Word of God. I pray for the pastor to speak boldly and accurately from the Bible. I pray for people to be convicted of their sin, for Christians to be encouraged in the faith, and for non-Christians to be converted. I also thank the Lord that we live in a city where we are not the only church in which the gospel is proclaimed.
Believe it or not, the practice of praying for other churches is so rare in many Christians' experience that many don't know exactly how to process it. More than once during my pastorate, a visitor to Third Avenue has walked up to me with a concerned look to express surprise that such-and-such church is having troubles. After all, why would the pastor of one church pray for another church if there weren't serious problems afoot there?!
Spirit of Competition
There are many benefits to doing this sort of thing week after week. For one thing, it helps me in the work of crucifying my own spirit of competition. It's so easy for pastors to subtly (if not less than subtly) begin to think of other churches as "the competition" instead of as fellow proclaimers of the gospel in their city. I want to go on record, in the most public forum I have, as praying for the success and faithfulness of those churches. We are not in this to make a name for ourselves; we are all in it to make a name for our King.
Not only so, but I think those prayers do the same work of crucifying a spirit of competition in the members of Third Avenue. Pastors are not alone in struggling with feeling competitive with other churches. Members do too, and it's good for them to see their leaders working publicly to counteract that tendency so that it doesn't take root in the life of the church.
Praying for other churches also communicates an important truth about the various churches in a city: We are all on the same team. We all have the same mission, and it's to proclaim the gospel of Jesus and make disciples of him. The last thing we should want as pastors is to communicate a provincial, myopic spirit among our members that recognizes good only in our church, and cannot see what God is doing more broadly. We serve a massive God, and an important way to show that truth to our people and teach them to rejoice in it is to teach them to care about God's work in the lives of other churches.
I have found that praying for other churches also helps me to cultivate friendships with their pastors. It reminds me, week after week, that there are others engaged in this same work that so consumes me each day, and it challenges me to strain against any tendency I might have to isolate myself in the work.
Oh! One hour with God infinitely exceeds all the pleasures and delights of this lower world!
Author: Susan Verstraete
James and Amelia Taylor loved their children and, like all doting parents, they enjoyed giving them little treats on occasion. But once in a while, when Amelia brought a dessert to the table for her family, James would say, "Who will see if they can do without today?" He explained it to the children this way:
By and by, you will have to say "No" to yourself when we are not there to help you, and very difficult you will find it when you want a thing tremendously. So let us try to practice now, for the sooner you begin, the stronger will be the habit.
The children were not punished if they chose not to give up the sweet, but if they were able to go the entire day without it they were rewarded with some other treat and most importantly, with the loving approval of their parents. Hudson Taylor took this lesson to heart and learned early how to say "no" to himself. He went on to live a life characterized by self-denial for the sake of the gospel, and yet, when he looked back over his long life he said, "I never made a sacrifice." How could he honestly say such a thing?
From his conversion in his teens, Hudson Taylor had a deep passion for God and desire to serve him as a missionary in China. All through his young adulthood his focus on this goal never failed. Most of China's inland cities had never seen a foreign missionary and a million Chinese each month were dying without having heard the gospel. Taylor could not understand how any believer could be unmoved in the face of such staggering need. He left his home in Barnsley in 1850 to study medicine in London, planning to go to China at the first opportunity as a medical missionary.
Taylor was touched by the plight of the poor in the slums of London. He chose to live among them in order to devote as much of his small income as possible to medicines and tracts to alleviate both the physical and spiritual suffering of the community. The damp, smelly neighborhood (aptly named Drainside) in which he rented a room was a full four miles from the hospital, which meant Taylor had at least an hour's brisk walk each way in every kind of weather. He willingly made that sacrifice to serve the poor.
During his studies at the hospital, Taylor was required to dissect a cadaver. While working on a particularly dangerous specimen, a small open wound on Taylor's finger allowed contaminants from the cadaver to enter his own blood stream. He became ill almost immediately. As soon as the teacher on duty learned what had happened and diagnosed "malignant fever," he urged Taylor to hurry home to get his affairs in order. "You are a dead man," he said grimly, expecting Taylor to die within hours. And though Taylor did get very sick, he recovered fully. The physician who cared for him credited Taylor's careful lifestyle and his long walks to and from the hospital as giving him the stamina to survive. Suddenly, his choice to live in Drainside didn't seem like a sacrifice.
During this same period of Taylor's life, the woman he loved refused to marry him unless he gave up his dream of serving in China. Taylor ended this relationship with tears. He trusted that God (like his parents at the dinner table) would have something better for him later if he denied himself for the sake of the gospel. And his faith proved true. God provided a wife in China—one who shared his passion for missionary work. Maria grew up in China, the daughter of English missionaries in Shanghai. She was as fluent in Mandarin as she was in English and became great help and comfort in Taylor's work. "It never cooled, my love for her," he said forty years later—"It has not cooled now." The relationship he gave up in London no longer seemed like a sacrifice.
In China, Taylor found that to gain an audience with the people, he first needed to give up his European dress and customs. He adopted a pigtail and chopsticks and traveled from town to town, living in boats, in small shacks or in attic garrets, usually battling insects and vermin. Once, on a journey to an inland city, he was robbed of his traveling bed, spare clothes, surgical instruments, and a Bible given to him by his mother. Taylor decided not to prosecute the thief because of the harsh Chinese penal system, but wrote the culprit a letter instead, urging him to repent. He described his plea to the errant servant in a letter sent home to England. That letter somehow fell into the hands of George Mueller of Bristol. He was so impressed by the spirit of the writer that he became a supporter of the mission. Taylor's sacrifice of the right to prosecute the man who stole his bed resulted in a supporter who would provide over $10,000 per year for the mission and would be a friend and advisor in times of trial. Looking back, giving up the right to justice did not seem like a sacrifice.
Taylor endured many hardships including arrests, insults, slander and poverty, but lived his life believing what Christ said in Mark 10:29 and 30—that if we give up anything for the sake of the gospel we will receive blessings one hundred times better in this life, and eternal life in the world to come. With that perspective, he could truly say, "I never made a sacrifice."
________________________
Quotes included in this article are taken from the books, Hudson Taylor In Early Years and Hudson Taylor and the China Inland Missionby Dr. and Mrs. Howard Taylor, OMF International, 2005
Copyright © 2007 Susan Verstraete.
Permission granted for reproduction in exact form. All other uses require written permission.
Find more free articles at http://www.BulletinInserts.org, a ministry of Christian Communicators Worldwide: http://www.CCWtoday.org
Let us…
And he answered, "You shall love the Lord your God with all your heart and with all your soul and with all your strength and with all your mind, and your neighbor as yourself." (Luke 10:27).
By Tony Reinke | May 19, 2012 04:00 am

Puritan Thomas Watson, A Body of Divinity:
If anything can make us rise off our bed of sloth, and serve God with all our might, it should be this, the hope of our near enjoyment of God forever.
(Design submitted by Jennifer Knight.)
You may be feeling totally inadequate, far from ready for that task. But if so, you have forgotten the most important part of the equation. It is not about you and your best efforts. It is about the light, power, and love of Christ illuminating our fragile lives.
It's New Year's Eve in downtown Nashville, and things are getting crazy. There's a mood of fun and festivity everywhere you look. And inside the biggest arena of all, two of the most popular country acts in the nation lead thousands of fans in a celebration of the end of one year and the beginning of the next. The music cranks up loud and the shouts of the audience respond in kind. The truth is, people love to party.
That night in Tennessee, we arrived to prepare for the Passion college gathering. Over the next few evenings the same arena would fill again, and we'd start a party of a different kind. No less volume or excitement—hopefully more—but a whole different reason for letting out those shouts of joy.
If people can get that excited over December becoming January, what on earth does it look like when over twenty thousand college students get their hearts and heads around the glory and grace of God? What does it sound like when we find ourselves caught up in the epic story of the One who came to this earth, endured the cross, and made a way home for us—all in the name of love and rescue?
As loud and as fun as those New Year celebrations might be, shouldn't they become just the faintest whisper when compared with the thunderous shouts and applause that accompany the praise of the King of all heaven? In the words of the old worship hymn, "Hark! How the heavenly anthem drowns all music but its own."
I once met a man who'd survived a shark attack by screaming so loudly that he burst blood vessels in his neck. His ear-piercing cries gave the shark so much of a headache that it gave up the attack and swam away. Where did such a loud scream come from? It came from deep inside him—from the very depths of who he was, crying out for mercy and survival.
So on the last night of the Passion student gathering that year, my good friend Louie Giglio, the founder of Passion, decided we were going to throw the party to end all parties. No low-key affair with some semiloud music and a halfhearted whoop or two—but a full-on, turn-it-up-loud celebration of the Son of God. The point being that if we truly live in the light of Christ and all that He has accomplished, there's a time to be a little bit outrageous in our gathered response to Him.
The day of the worship-fueled party arrived, and things were beginning to happen inside the arena. People hung extra lights and prepared song lists, and everything looked good for some extreme celebration. Apart from one thing, that is. Louie had been excitedly talking about a mirror-ball moment, which he'd planned for a while.
At just the right time, during a joyful worship song, he planned to lower this thing, shine some lights on it, and give a little extra visually creative expression to these full-on celebrations.
The first time I heard about the mirror ball, it sounded like a good idea—until I entered the arena, that is. Hanging above the center of the stage was a tiny spherical object, and as I strained my eyes to see it, I thought the object certainly looked like a mirror ball.
But I was sure this couldn't be Louie's mirror ball: It was tiny—the kind of thing I'd seen every year from the age of seven at my school disco. Yet—I looked around—there didn't seem to be any other mirror balls hanging up there. And so I had to conclude that this must be the one he was talking about.
Quite frankly, I was worried. I decided that we were headed for the biggest anticlimax in the history of Christian worship gatherings. Louie had told everyone on the team about this great disco-ball moment that would help lead us in our joyful worship celebrations—when, as far as I could tell, it was going to be a moment of laughter for all the wrong reasons. I wanted to be a good friend and warn him—but he was so pumped about his little mirror ball, I just didn't have the heart.
As it turned out, I needn't have worried. The evening was wonderful. The thousands of students assembling that night to worship Jesus arrived in silence—as we'd been encouraged to do to prepare our hearts for gathered worship. Through songs and sounds and moments of ancient liturgy, we went to the cross. There we recalled the most amazing act of obedience and sacrifice this world has ever seen.
We paused for a while, and I was reminded once again that God makes worshippers out of wonderers. As our hearts breathed in afresh the mystery of grace, we exhaled reverent awe and thanksgiving in response. The soul-gripping mystery of Calvary fueled the fires of our praise, and remembrance led us to rejoicing.
Next, we began to turn up the volume a notch or two, with heartfelt songs of devotion resounding intensely around the room. In Scripture, Jesus Himself said that out of the overflow of the heart the mouth speaks—and as we stood there in amazement at the grace and glory of God, sounds of joyful thanksgiving tried to find a way out of our hearts.
And then the moment arrived. Mirror ball time. Down from the ceiling came the world's smallest disco ball. I didn't know whether to laugh, cry … or get my binoculars out to actually see the thing.
However, in one bright, shining moment, all of my fears died. Powerful beams of light hit the face of the ball, and suddenly, in every corner of that massive arena, radiance shone all around. Light filled the room. It seemed to glow on every face and shine on every inch of floor, wall, and ceiling. A huge arena filled with light—by way of a tiny little mirror ball. And people partied. In that moment, focusing on the glory of the Savior and celebrating His victories, we shouted for joy and danced with abandon.
It turns out that in all my doubting and questioning of Louie's mirror ball, I'd seriously underestimated the most important factor—the power and brilliance of the beams of light that shone upon it.
In the end, it was all a matter of light.
I thought I knew the story, but I learned some things after the hymn was penned…