You are currently browsing the category archive for the 'Why We Need to Pray' category.
"THERE IS A GROWING CONVICTION EVERYWHERE, AND ESPECIALLY AMONG THOUGHTFUL PEOPLE, THAT UNLESS REVIVAL COMES, OTHER FORCES WILL TAKE THE FIELD, THAT WILL SINK US STILL DEEPER INTO THE MIRE OF HUMANISM AND MATERIALISM."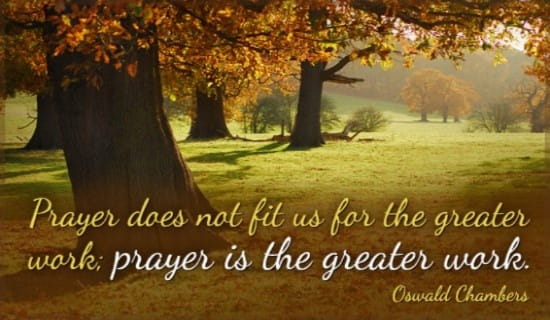 "Fervent prayers produce phenomenal results."
"I pray because I can't help myself. I pray because I'm helpless. I pray because the need flows out of me all the time, waking and sleeping. It doesn't change God. It changes me."
"I've read the stories of past revivals and spiritual awakenings in our nation. So even when I get tired and need refreshing in my prayer. I still hang on to hope. That's because my hope doesn't rest in the effectiveness of my prayers, but instead in my God who always wins the cosmic battles."
~ Carol Madison, Prayer That's Caught and Taught: Mentoring the Next Generation, 47.
"It is not always clear when prayer meetings are part of the revival itself or are proceeding it. But the distinction does not matter too much. Prayer is both the cause and result of the coming of the Spirit in revival."
~ Brian H. Edwards, Revival! A People Saturated With God, 78.
"Almost every Christian leader today laments a lack of personal prayer, but very few are determined to do anything about it. We are not sufficiently concerned to make a radical alternation in our diaries and get down to the 'unproductive' and unnoticed battle of assaulting heaven. We would all prefer to be compared with Hezekiah rather than his father Ahaz, but it was the latter who 'shut the doors of the Lord's temple', and in our lack of prayer we have done just that."
~ Brian H. Edwards, Revival! A People Saturated With God, 76-77.
"Prayer girds human weakness with divine strength, turns human folly into heavenly wisdom, and gives to troubled mortals the peace of God. We know not what prayer can do."