You are currently browsing the category archive for the 'The Word of God' category.
FROM R.C. Sproul
Christians often use a simple acrostic as a guide to prayer: A.C.T.S. Each of the letters in this acrostic stands for one of the key elements of prayer:
(A) Adoration
(C) Confession
(T) Thanksgiving
(S) Supplication
But not only does this acrostic remind us of the elements of prayer, it shows us the priority we ought to give to each.
The first element of prayer should be adoration, or praise. The Psalms, which are inspired samples of godly prayer, are heavily weighted on the side of adoration. I've noticed over many years that as we grow in the discipline and in the delight of prayer, it seems that we naturally spend more and more of our time on this first element.
Second, prayer should include confession of our sin; as we remember who we are when we come into God's presence, we see that we have come short of His holiness and have need of His forgiveness.
Third, when we pray, we should always give thanks, remembering the grace and mercy God has shown toward us.
Fourth, prayer rightly includes supplication or petition, bringing our requests for the needs of others and ourselves to God.
I think this is a helpful acrostic for remembering both the elements and the priorities of prayer. Unfortunately, we often spell our prayer life something like S.C.A.T., because we start with supplication and spend very little time, if any, on adoration, confession, and thanksgiving.
The Lord's Prayer
When we look at the Lord's Prayer, we see adoration at least implied in the petition "Hallowed be Your name."
"…do not be anxious about anything, but in everything by prayer and supplication with thanksgiving let your requests be made to God. And the peace of God, which surpasses all understanding, will guard your hearts and minds in Christ Jesus" (Philippians 4.6-7).
"And the tax collector, standing afar off, would not so much as raise his eyes to heaven, but beat his breast, saying, 'God, be merciful to me a sinner!' "
A young lawyer who had just opened his law practice was sitting in his chair behind his new executive desk, waiting for his first client to come in. When he saw a man walking toward his office, he picked up the phone and began talking to his imaginary assistant. He said, "Yes, I am so busy right now. Ask them to call back. I have so many clients, I just don't have time." He hung up the phone, sure that he had just impressed his first visitor.
"I'm from the phone company," the man said. "I'm here to connect your phone."
That's how it is for us when we try to impress God with things we say and do. Jesus told the story of two men who went up to the temple to pray. One was a Pharisee who prayed, "God, I thank You that I am not like other men-extortioners, unjust, adulterers, or even as this tax collector. I fast twice a week; I give tithes of all that I possess" (Luke 18:11–12 NKJV).
The other was a tax collector who simply said, "God, be merciful to me a sinner!" (verse 13 NKJV).
Jesus said of the tax collector, "This man went down to his house justified rather than the other" (verse 14 NKJV). The primary problem of the Pharisees, the religious elite, was that prayer, for them, was theater. It was a performance. They would stand praying on a street corner, and sometimes someone would sound a trumpet. Jesus was saying that God doesn't care about things like that. They were so concerned with impressing people, but God wasn't impressed.
"Count it all joy, my brothers, when you meet trials of various kinds, for you know that the testing of your faith produces steadfastness. And let steadfastness have its full effect, that you may be perfect and complete, lacking in nothing."
~ James 1.2-4
"When the saint ceases to seek after holiness, purity, righteousness, truth; when he ceases to pray, stops reading the Word and gives way to carnal appetites, then it is that Satan comes."
DO NOT BE INFLUENCED BY THE IMPORTANCE
OF THE WRITER, AND WHETHER HIS LEARNING
BE GREAT OR SMALL, BUT LET THE LOVE OF
PURE TRUTH DRAW YOU TO READ. DO NOT
INQUIRE, "WHO SAID THIS?" BUT PAY ATTENTION
TO WHAT IS SAID.
MEN PASS AWAY, BUT THE WORD OF THE
LORD ENDURES FOREVER.
~ THOMAS À KEMPIS
THE IMITATION OF CHRIST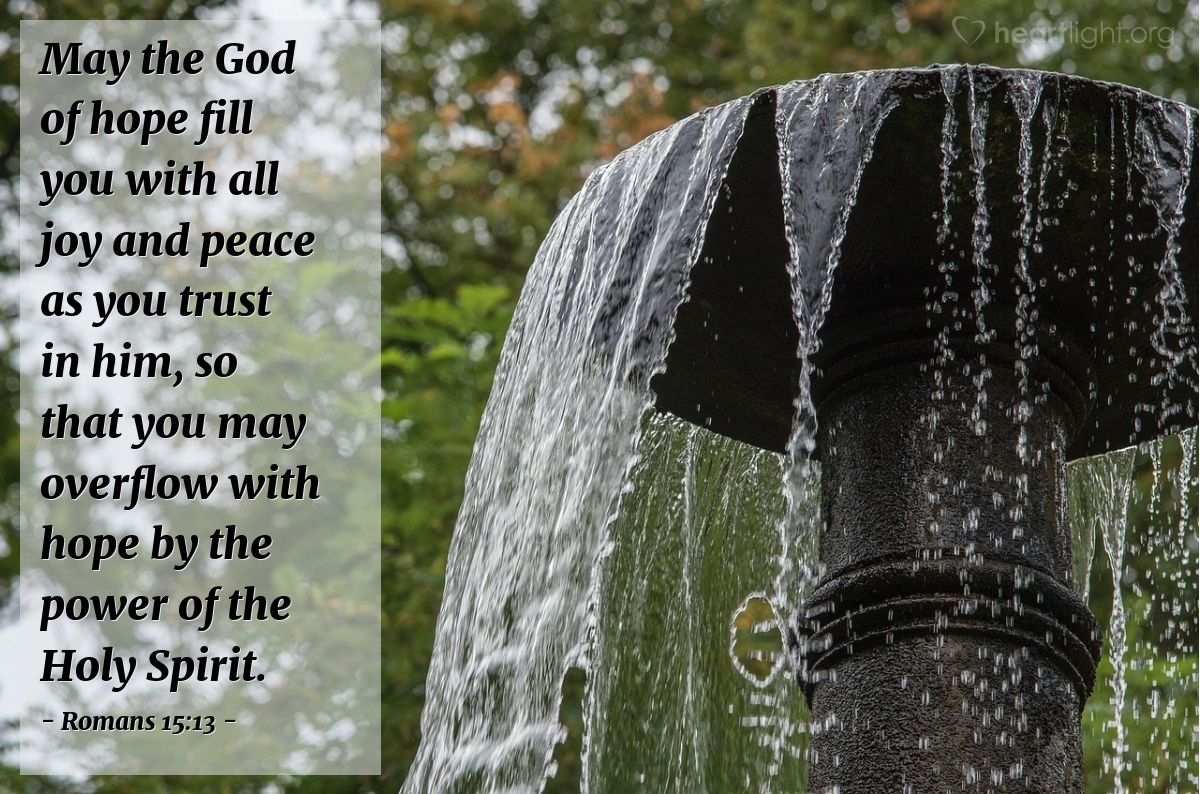 "The law of the LORD is perfect, reviving the soul; the testimony of the LORD is sure, making wise the simple"
~ Psalm 19:7 (ESV)