You are currently browsing the category archive for the 'The Word of God' category.
"Shall I give you yet another reason why you should pray? I have preached my very heart out. I could not say any more than I have said. Will not your prayers accomplish that which my preaching fails to do? Is it not likely that the Church has been putting forth its preaching hand but not its praying hand? Oh, dear friends! Let us agonize in prayer."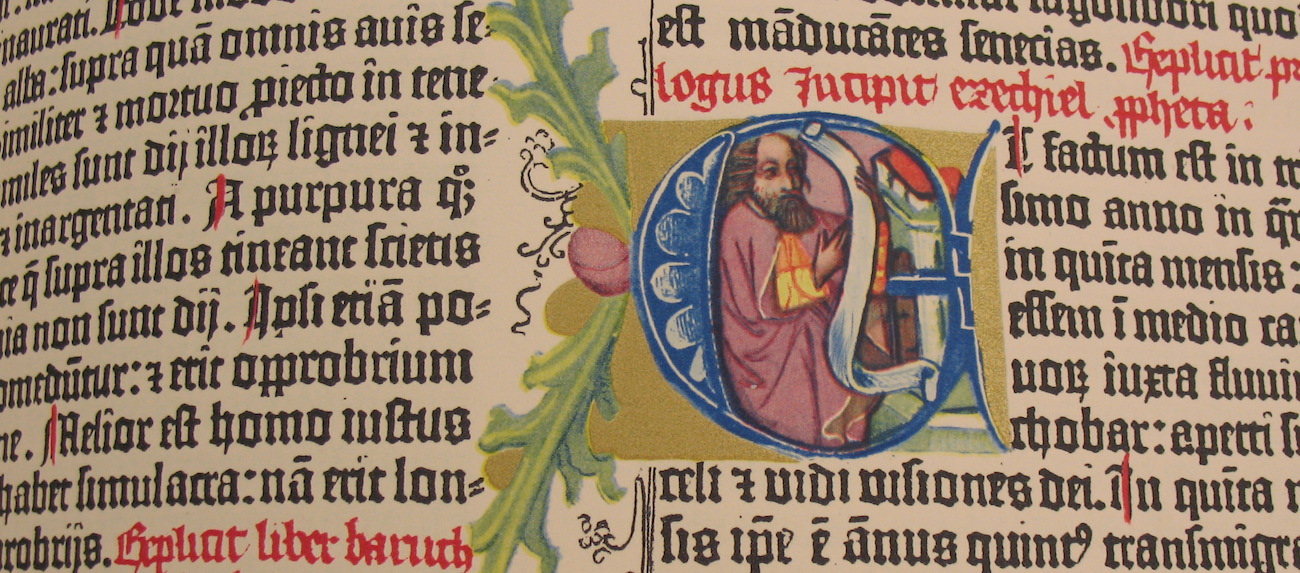 The Quest to Acquire the Oldest, Most Expensive Book on the Planet
A wooden box containing one of the most valuable books in the world arrives in Los Angeles on October 14, 1950, with little more fanfare—or security—than a Sears catalog. Code-named "the commode," it was flown from London via regular parcel post, and while it is being delivered locally by Tice and Lynch, a high-end customs broker and shipping company, its agents have no idea what they are carrying and take no special precautions.
The widow of one of the wealthiest men in America, Estelle Betzold Doheny is among a handful of women who collect rare books, and she has amassed one of the most spectacular libraries in the West. Acquisition of the Gutenberg Bible, universally acknowledged as the most important of all printed books, will push her into the ranks of the greatest book collectors of the era. Its arrival is the culmination of a 40-year hunt, and she treasures the moment as much as the treasure.
Estelle's pursuit of a Gutenberg began in 1911, when she was a wasp-waisted, dark-haired beauty, half of a firebrand couple reshaping the American West with a fortune built from oil. Now 75, she is a soft, matronly figure with waves of gray hair. The auspicious occasion brings a flash of youth to her face, and she is all smiles. But she resists the impulse to rip into the box, leaving it untouched overnight so she can open it with appropriate ceremony the next day.
Estelle has invited one of her confidants, Robert Oliver Schad, the curator of rare books at the Henry E. Huntington Library, to see her purchase, and at noon he arrives with his wife, Frances, and their 18-year-old son, Jasper. Estelle's secretary, Lucille Miller, escorts the family through the mansion's Great Hall to the library, and with a sweep of her hand invites the group to sit at the oblong wood table in the center. The Book Room, as Estelle affectionately calls it, is finished in rich redwood and had been her husband's billiard parlor. Its walls had once featured paintings related to Edward Doheny's petroleum empire, murals commissioned by the onetime prospector who drilled some of the biggest gushers in the history of oil. Today the room is lined with custom-built shelves for Estelle's beloved books—her own personal empire, worth as much as Edward's oil.
Her collection began almost as a lark, sparked by popular lists of books that everyone should own, but now contains nearly 10,000 exceedingly rare volumes available only to the fabulously wealthy and culturally ambitious—gilded illuminated manuscripts glowing with saints and mythical creatures; medieval encyclopedias; and the earliest examples of Western printing, 135 incunabula—books printed before the year 1501. Such seminal works of Western culture as Cicero's De officiis and Saint Thomas Aquinas's Summa Theologica rub shoulders with a sumptuous 1477 copy of The Canterbury Tales. This is the million-dollar company the Gutenberg Bible will keep on its shelf.
The two-by-three-foot crate waits at the center of the table, spotlighted by a bronze-and-glass billiard lamp. When Estelle enters the room, accompanied by her companion and nurse, Rose Kelly, the group stands silent. Lucille takes out a pair of scissors and passes it around. Estelle, dressed for the occasion in a pale blue printed silk dress, a gem-studded comb at her right temple, wants everyone to take part, so each person makes a cut in the knotted cord that winds the package.
It's an emotional occasion for Lucille, too, a slim, long-limbed woman with center-parted, brown hair that curls up around her cheeks. Never without a pencil tucked behind her ear, she has a subdued beauty that's easy to miss, a pale, symmetrical face hidden behind her glasses. Lucille has been Estelle's steady partner in the quest for the Gutenberg, party to every promise, hope, and near miss for nearly 20 years. She almost allows herself to smile as she pulls away the box's coverings and lifts the lid, but then she sees the shabby mess inside. "I could hardly believe my eyes," she said later. "It just looked like a bundle of old tattered, torn papers. It was the most carelessly wrapped thing I ever saw." The precious book has been enclosed without padding, wrapped in thin cardboard and then in dark corrugated paper tied with a heavy cord. Lucille mentally chastises the customs officials in New York who had opened the parcel for inspection and then shoved it back in the box "any old way, and tied a string or two here or there and along it came."
The price of the book when it left the printer's workshop was believed to be about thirty florins, equivalent to a clerk's wages for three years.But as she lifts it out of the last of the wrappings, the Bible appears to be fine. For an expert like Robert Schad, there is no mistaking the original 15th-century binding of age-darkened brown calfskin stretched over heavy wood boards. The copy now in Estelle Doheny's possession is the first issue of the first edition of the first book printed with movable metal type, in near-pristine condition, its pages fresh and clean. The lozenge and floweret patterns stamped into the leather cover are still sharp and firm to the touch. Five raised metal bosses protect the covers, one ornament in the center and one set in an inch from each of the four corners. Two broken leather-edge clasps are the only reminders that this book, which has presented the Living Word for nearly five centuries, has been opened and closed often enough to wear down the heavy straps.
Lucille moves close to her employer, standing on her left and tucking her arm under the spine of the heavy book so that Mrs. Doheny can more easily examine it. Estelle reaches out to touch the fine old leather and slowly lifts the cover and opens the enormous volume. With her gold-framed glasses perched on the edge of her nose, she glides her right hand softly over the edges of the book's rippling leaves, taking special care not to touch the print. As she turns the crackling pages one by one, she is overcome with quiet joy. Her pursuit of this object of Western invention had begun long ago, during happier days, before her husband was embroiled in scandal. She feels the smoothness of the heavy rag paper under her fingers and strains to focus her gaze on the black Gothic letters, but the Latin text is lost in a cloudy blur and she can't make out the printed lines. A hemorrhage in one eye and glaucoma in the other have left Estelle almost completely blind at the age of 75.
Still, she knows well what she possesses, and just to be in its presence would be stirring to anyone who understands its significance. The European advancement of printing with movable metal type transformed every aspect of human civilization, and Johann Gutenberg's execution of the work set a standard that few would match.
As Estelle runs her hands over the book, Schad, a poised man of medium build who's dressed today in a black suit and tie with a crisp white shirt, points out a few of the qualities that make it unique. Every Gutenberg Bible is somewhat different from every other because while Gutenberg's workshop printed the pages of each massive volume, the printers left it to the purchaser to have them bound and decorated. Guided by the owner's taste and budget, a whole team of artisans might step in to customize the book—illuminators would be hired to paint the highly pictorial ornamental letters, and specialists known as rubricators added chapter titles and headings separate from the text.
The first owner of this Bible had not scrimped on ornamentation. The volume is filled with elaborate, richly colored illuminations and enlarged capital letters.
By Dr. Ronnie Floyd
The growth of our spiritual lives will never outpace our intentional commitment to prioritize it every day. Our spiritual development impacts every other area of our lives—and we cannot delegate that growth to anyone else.
During my college years, over Christmas break, my brother asked me to build a barn for him. He is a much more gifted carpenter than I, but he was trying to help me out. I needed the money. But building barns was neither my passion nor within my skill set.
I accomplished the task, but in a few years the barn began to lean and eventually became unsafe. My brother would have been better off building the barn himself than delegating something to me I could not properly do.
Just as my brother should not have expected me to build a barn, you and I cannot expect someone else to build our spiritual lives for us. No one else can construct our daily walk with God. It has to be intentional, purposeful, and personal. Each one of us is accountable to do it ourselves.
The wisest decision we can make each day is this: I will walk with God today. What the Bible says about Enoch has always challenged me. This statement is simple yet profound: "Enoch walked with God" (Gen. 5:24, esv). Could God write this about your life and mine today? If not, why not? What stands in our way? Who is standing in our way?
In reality, no one and no thing stands in our way. The decision is ours. Remember these truths:
God wants to walk with us! Getting our lives in order spiritually and practically begins with the decision to make it our number-one priority.
God wants to have a meaningful relationship with us daily. He never puts us on hold, and we never have to stand in line.
He does not delegate our spiritual growth to one of the angels who serves Him. He is always waiting on each of us to come to Him.
Bringing our lives into spiritual order requires a strategy.
Let me highlight a few ways to be intentional in our commitment to prioritize our spiritual lives:
Reading the Bible Daily
The Bible is God's Word. It's what God says to you and me, and to all people. Thus, we need to read the Bible every day.
When the Bible speaks, God speaks. His voice through His Word cannot be minimized. But we can maximize its impact in our lives if we truly understand that what He says lives forever—and put His Word into practice! Through the years, I have witnessed thousands of Christians who live out their faith. Almost without exception, those who read the Bible daily are set apart from the others.
Former trucking magnate J.B. Hunt told me that the Bible was his road map for life. It showed him how to live the way he wanted to live—for God. Hunt drove trucks all over America even before he and his wife Johnelle began their Fortune 500 transportation company (one of the largest in the country). While he lived on the road, the map of our country became important to him. It led him to his desired destination.
But Hunt began his day reading the Bible. It would take him at least 18 months to read through the Bible once, but he read through the entire Bible several times in his life. It was his road map leading him to his desired spiritual growth. If an extraordinarily busy and wealthy man like J.B. Hunt knew he needed to read the Bible and make it a priority each day of his life, surely his example can inspire us to do the same.
This imperative daily discipline helps us become spiritually fit. We cannot be all God wants us to be if we do not read the Bible. It is impossible.
Praying Our Life into Order
Think of it this way: We can go to God anytime, anywhere, about anything. Through Jesus Christ, we have direct access to God.
Since we can go to God anytime, anywhere, and about anything that's going on in our lives, why not choose to talk to God daily—and often? Create your own system of prayer or adopt someone else's. If nothing else, make a list of things you are concerned about in your own life, your family, your church, your career and business, your future, your finances, your country, and concerns you have for other people. Pray for them each day and look for God to walk into those situations personally and powerfully. God answers prayer! God steps into the life of the person who prays. He can do more in a moment than you can in a lifetime. Each of us needs divine intervention.
Living an orderly life requires praying our lives into order. This is why I keep my prayer list in the Notes app on my iPad. My list changes continually as I watch God respond to my prayers. And I can easily change my list because of the technology's simplicity. Find what works best for you, and just do it.
Praying with Fasting
Consider adding periodic times of fasting to your prayer life. Fasting is abstaining from something with a spiritual goal in mind.

"The Bible is alive, it speaks to me; it has feet, it runs after me; it has hands, it lays hold of me." — Martin Luther
I remember early on as a follower of Jesus, I would hear people reference their desire and ability to go to a quiet place with only their Bible and emerge after four hours refreshed, renewed, and revitalized. If I'm honest, the prospect of this scenario seemed overwhelming and the direct opposite of refreshing. I think this was mainly because of my lack of perspective on the benefits and blessings of a time of studying.
Studying is one of the most important areas in which to figure out a sustainable rhythm. When I've attempted to read through the Word with no real plan, I've found myself lost, confused, and bored. A breakthrough came when I started to ask the Lord to show me what He desired for me to see. When we read God's Word, we must continually say, "This is talking to me." The Bible is not an impersonal story about the past; it is the living Word of God. It is an ongoing narrative of which we are a part. Our hope is to gain insight on life and direction through the revealed Word of God. Eugene Peterson says it best: "The goal of reading the Word is to listen for the voice of the God who speaks." There is a reason that Psalm 119 refers to the Word of God as a lamp to our feet and light to our path. Scripture helps to guide and direct us as we seek to understand the richness of its truth.
The Bible is filled with reminders of the significance and power that accompanies studying, learning, and resting in the Scripture and precepts of God. Paul teaches in Colossians 3:16, "Let the word of Christ dwell in you richly, teaching and admonishing one another in all wisdom, singing psalms and hymns and spiritual songs, with thankfulness in your hearts to God." Studying God's Word allows us to ingest his truth so that it can permeate all of our inner self. When we focus on Scripture, it reminds us of who God truly is and who we are in light of that truth. The Word gives us understanding that helps us to teach and guide others according to God's principles. Understanding the Word produces thankfulness that causes us to sing and encourage one another with God's promises.
FROM R.C. Sproul
Christians often use a simple acrostic as a guide to prayer: A.C.T.S. Each of the letters in this acrostic stands for one of the key elements of prayer:
(A) Adoration
(C) Confession
(T) Thanksgiving
(S) Supplication
But not only does this acrostic remind us of the elements of prayer, it shows us the priority we ought to give to each.
The first element of prayer should be adoration, or praise. The Psalms, which are inspired samples of godly prayer, are heavily weighted on the side of adoration. I've noticed over many years that as we grow in the discipline and in the delight of prayer, it seems that we naturally spend more and more of our time on this first element.
Second, prayer should include confession of our sin; as we remember who we are when we come into God's presence, we see that we have come short of His holiness and have need of His forgiveness.
Third, when we pray, we should always give thanks, remembering the grace and mercy God has shown toward us.
Fourth, prayer rightly includes supplication or petition, bringing our requests for the needs of others and ourselves to God.
I think this is a helpful acrostic for remembering both the elements and the priorities of prayer. Unfortunately, we often spell our prayer life something like S.C.A.T., because we start with supplication and spend very little time, if any, on adoration, confession, and thanksgiving.
The Lord's Prayer
When we look at the Lord's Prayer, we see adoration at least implied in the petition "Hallowed be Your name."
"…do not be anxious about anything, but in everything by prayer and supplication with thanksgiving let your requests be made to God. And the peace of God, which surpasses all understanding, will guard your hearts and minds in Christ Jesus" (Philippians 4.6-7).