You are currently browsing the category archive for the 'The Necessity of Prayer' category.
"To be a Christian without prayer is no more possible than to be alive without breathing."
A prayer for Sunday morning
Today we celebrate Your magnificent splendour
For by Your hand You placed time in motion
From the first day of creation until this day
Your creative wonders have filled the universe
Today we celebrate Your mighty power
For by Your hand you raised Christ from the grave
From resurrection Sunday until this day
Your love has given life to all mankind
Father we thank you for today
We give this special day over to You
May we rest in Your presence
Bathe in Your goodness
And celebrate Your eternal life
This day and always
Amen!
(A modern prayer for Sundays from http://www.lords-prayer-words.com)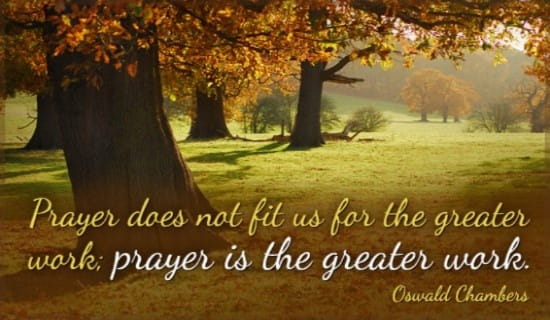 "Prayer is the way you defeat the devil, reach the lost, restore a backslider, strengthen the saints, send missionaries out, cure the sick, accomplish the impossible, and know the will of God."
"When the saint ceases to seek after holiness, purity, righteousness, truth; when he ceases to pray, stops reading the Word and gives way to carnal appetites, then it is that Satan comes."
"Revival begins in the individual's heart. Let it begin with you on your face alone before God. Turn from every sin that might hinder. Renew yourself to a new devotion to the Savior."
"The truth of the matter is that the devil is not terribly frightened of our human efforts and credential. But he knows his kingdom will be damaged when we lift up our hearts to God."
~ Jim Cymbala, Fresh Wind, Fresh Fire, 56.
"The coming revival must begin with a great revival of prayer. It is in the closet, with the door shut, that the sound of abundance of rain will first be heard. An increase of secret prayer with ministers will be the sure harbinger of blessing."
"Prayer does not fit us for the greater work; prayer is the greater work." 
"The coming revival must begin with a great revival of prayer. It is in the closet, with the door shut, that the sound of abundance of rain will first be heard. An increase of secret prayer with ministers will be the sure harbinger of blessing."