You are currently browsing the category archive for the 'The Necessity of Prayer' category.
"Church revitalization will only ever happen in answer to faith-filled, prevailing prayer. It is greatly to the glory of God to revitalize a church of humble, prayerful people. But it is greatly dishonoring to him to suppose this transformation can come about any other way."
~ Andrew M Davis, Revitalize, 94.
"Christ is our life: in heaven He ever liveth to pray; His live in us an ever-praying life, if we but trust Him for it. Christ teaches us to pray not only by example, by instruction, by command, by promises, but by showing us Himself, the everlasting Intercessor, as our Life." 
~ Andrew Murray, With Christ in the School of Prayer, (preface)
"And the tax collector, standing afar off, would not so much as raise his eyes to heaven, but beat his breast, saying, 'God, be merciful to me a sinner!' "
A young lawyer who had just opened his law practice was sitting in his chair behind his new executive desk, waiting for his first client to come in. When he saw a man walking toward his office, he picked up the phone and began talking to his imaginary assistant. He said, "Yes, I am so busy right now. Ask them to call back. I have so many clients, I just don't have time." He hung up the phone, sure that he had just impressed his first visitor.
"I'm from the phone company," the man said. "I'm here to connect your phone."
That's how it is for us when we try to impress God with things we say and do. Jesus told the story of two men who went up to the temple to pray. One was a Pharisee who prayed, "God, I thank You that I am not like other men-extortioners, unjust, adulterers, or even as this tax collector. I fast twice a week; I give tithes of all that I possess" (Luke 18:11–12 NKJV).
The other was a tax collector who simply said, "God, be merciful to me a sinner!" (verse 13 NKJV).
Jesus said of the tax collector, "This man went down to his house justified rather than the other" (verse 14 NKJV). The primary problem of the Pharisees, the religious elite, was that prayer, for them, was theater. It was a performance. They would stand praying on a street corner, and sometimes someone would sound a trumpet. Jesus was saying that God doesn't care about things like that. They were so concerned with impressing people, but God wasn't impressed.
"…when we learn to regard it (prayer) as the highest part of the work entrusted to us, the root and strength of all other work, we shall see that there is nothing that we so need to study and practise as the art of praying aright." 
~ Andrew Murray, With Christ in the School of Prayer, (preface)
"To be a Christian without prayer is no more possible than to be alive without breathing."
A prayer for Sunday morning
Today we celebrate Your magnificent splendour
For by Your hand You placed time in motion
From the first day of creation until this day
Your creative wonders have filled the universe
Today we celebrate Your mighty power
For by Your hand you raised Christ from the grave
From resurrection Sunday until this day
Your love has given life to all mankind
Father we thank you for today
We give this special day over to You
May we rest in Your presence
Bathe in Your goodness
And celebrate Your eternal life
This day and always
Amen!
(A modern prayer for Sundays from http://www.lords-prayer-words.com)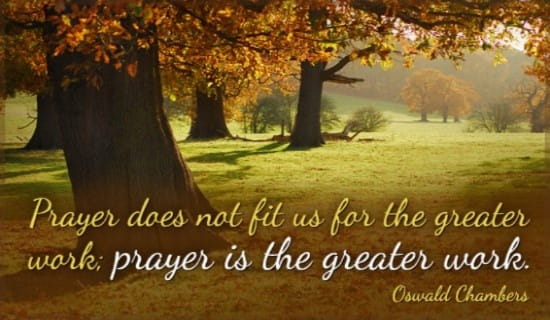 "Prayer is the way you defeat the devil, reach the lost, restore a backslider, strengthen the saints, send missionaries out, cure the sick, accomplish the impossible, and know the will of God."
"When the saint ceases to seek after holiness, purity, righteousness, truth; when he ceases to pray, stops reading the Word and gives way to carnal appetites, then it is that Satan comes."
"Revival begins in the individual's heart. Let it begin with you on your face alone before God. Turn from every sin that might hinder. Renew yourself to a new devotion to the Savior."