You are currently browsing the category archive for the 'Prayer Quotes' category.
"When life is rough pray, when life is great pray."
~ Anonymous
"You cannot pray for someone and hate them at the same time."
"The church of Jesus Christ was birthed as a world-changing force at a prayer meeting. In that upper room in Jerusalem on the day of Pentecost, as the small group of disciples was gathered to pray continually and wait on God to send the gift of the promised Holy Spirit" (Acts 1.4-5; 14).
~ Andrew M Davis, Revitalize,94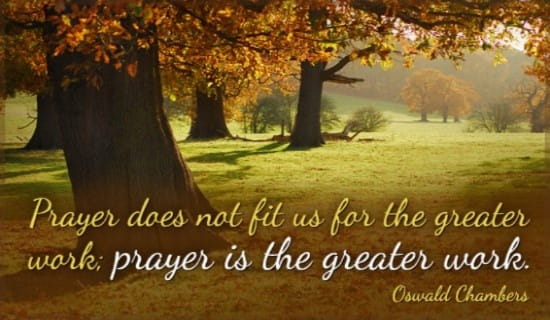 "Fervent prayers produce phenomenal results."
"I pray because I can't help myself. I pray because I'm helpless. I pray because the need flows out of me all the time, waking and sleeping. It doesn't change God. It changes me."
"I've read the stories of past revivals and spiritual awakenings in our nation. So even when I get tired and need refreshing in my prayer. I still hang on to hope. That's because my hope doesn't rest in the effectiveness of my prayers, but instead in my God who always wins the cosmic battles."
~ Carol Madison, Prayer That's Caught and Taught: Mentoring the Next Generation, 47.