You are currently browsing the category archive for the 'Prayer for Revival' category.
"Every mighty move of the Spirit of God has had its source in the prayer chamber."
"From the Day of Pentecost, there has not been one great spiritual awakening in any land which has not begun in a union of prayer, though only among two or three; no such outward, upward movement has continued after such prayer meetings have declined."
A.T. Pierson, quoted by Arthur Wallis, In the Day of Thy Power, p. 112
"THERE IS A GROWING CONVICTION EVERYWHERE, AND ESPECIALLY AMONG THOUGHTFUL PEOPLE, THAT UNLESS REVIVAL COMES, OTHER FORCES WILL TAKE THE FIELD, THAT WILL SINK US STILL DEEPER INTO THE MIRE OF HUMANISM AND MATERIALISM."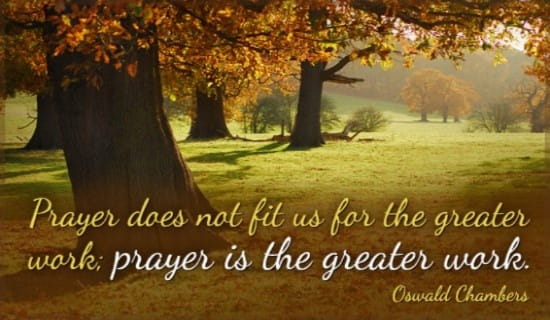 "Fervent prayers produce phenomenal results."
"I've read the stories of past revivals and spiritual awakenings in our nation. So even when I get tired and need refreshing in my prayer. I still hang on to hope. That's because my hope doesn't rest in the effectiveness of my prayers, but instead in my God who always wins the cosmic battles."
~ Carol Madison, Prayer That's Caught and Taught: Mentoring the Next Generation, 47.

"It is not always clear when prayer meetings are part of the revival itself or are proceeding it. But the distinction does not matter too much. Prayer is both the cause and result of the coming of the Spirit in revival."
~ Brian H. Edwards, Revival! A People Saturated With God, 78.
"George Whitefield drew up a list in his diary of those actions by which he would judge himself each day. There were fifteen items, and the first three concerned his prayer life…
The first one read: 'Have I been fervent in private prayer?'
…The second was: 'Have I used stated hours of prayer?'
Whitefield's diary shows that his 'stated hours of prayer' were in the morning, at midday and at night. And he kept to these times, as a minimum, with strict discipline."
~ Brian H. Edwards, Revival! A People Saturated With God, 76.
"Heavenly Father,
Blessed be your holy name! You alone are God! There is no one like you, and thus, only you are worthy of worship and praise. As your people gather all over America on Sunday, may they truly worship you in spirit and in truth and in the precious and matchless name of Jesus!
We are guilty of prayerlessness! Please send revival. We are desperate for it.
In the Awesome Name of Jesus!
Amen!"