You are currently browsing the category archive for the 'Jesus' category.
"He (Jesus) commands us to pray for our daily bread so that we're reminded that every last gift is from God"
~ John Onwuchewa, Prayer, 57.
"When Jesus built the church, he built a praying congregation."
"Salvation comes through a cross and a crucified Christ."
Robert Murray McCheyne was a local pastor in Dundee, Scotland, who died in 1843 at the age of 29. No extraordinary events in his life made him likely to be remembered. But he had a very precious friend, Andrew Bonar, a nearby pastor. And within two years Andrew had published Memoir and Remains of Robert Murray McCheyne. It is still in print, and here we are 176 years after McCheyne's death, encouraged and inspired by his life.
What was it about McCheyne's short, and in many ways ordinary, life that gave it the force that created the book (and now books) that preserves his legacy to our day?
The Rose and the Thorn
I suggest that there was a double key to the force of McCheyne's life: the preciousness of Jesus and the pain of a thorn.
In McCheyne's description of his teenage years, he said, "I kissed the Rose nor thought about the thorn" — meaning, "I indulged in all the amusing and beautiful pleasures of the world, and didn't give a thought to sickness and suffering and death." But after his conversion, he spoke often of Jesus as his Rose of Sharon, and he lived in almost constant awareness of the thorn of his sickness and that his time might be short. He said in one of his sermons,
Set not your heart on the flowers of this world; for they have all a canker in them. Prize the Rose of Sharon . . . more than all; for he changeth not. Live nearer to Christ than to the saints, so that when they are taken from you, you may have him to lean on still. (Sermons of Robert Murray McCheyne)
McCheyne lived only the morning of his life: he died before he was 30. His effectiveness, however, was not frustrated by this fact but empowered by it. Because of his tuberculosis, he lived with the strong sense that he would die early. So the double key to his life is the preciousness of Jesus, the Rose, intensified by the pain of the thorn, the sickness and the shortness of his life.
Pierced Awake
McCheyne was born in Edinburgh, Scotland, on May 21, 1813. He grew up in an atmosphere with high moral standards, but was, by his own testimony, "devoid of God." When he went to the University of Edinburgh at the age of 14, he studied classics. He was kissing the rose of classical learning, and ignoring the thorn of suffering and death.
But all that changed in 1831 when he was 18 years old. David, Robert's oldest brother, was neither spiritually nor physically well. In the summer of that year, he sank into a deep depression and died on July 8. Suddenly, the thorn of the rose stabbed McCheyne through the heart. All the beauty of the rose he was living for wilted. And by God's grace, he saw another Rose in what happened to David.
In the days leading up to his death, David found a profound peace through the blood of Jesus. Bonar said that "joy from the face of a fully reconciled Father above lighted up [David's dying] face" (Memoir). McCheyne saw it, and everything began to change. He had seen a rose other than classical learning. And he saw it as beautiful, not in spite of the thorn, but because of it. The thorn pierced him awake.
A Passion for Holiness and Evangelism
Four months after the death of his brother, McCheyne enrolled in the Divinity Hall of Edinburgh University, November 1831. There he met the man who would have the greatest influence on his life and ministry, Thomas Chalmers.
Chalmers pressed all of his great learning into the service of holiness and evangelism. He warned McCheyne and the other students of "the white devil" and "the black devil" — the black devil leading to "fleshly sins" of the world, and the white devil to "spiritual sins" of self-righteousness. And he made the gospel of Christ crucified for sinners the central power for this holiness.
Chalmers was also deeply burdened about the poverty in the slums of Edinburgh and how little gospel witness there was. He established the Visiting Society and recruited McCheyne and his friends to join. This threw McCheyne into a world he had never seen as an upper-middle-class university student. It awakened in him a sense of urgency for those cut off from the gospel. On March 3, 1834, two and a half years into his divinity studies, he wrote,
Such scenes I never before dreamed of. . . . "No man careth for our souls" is written over every forehead. Awake, my soul! Why should I give the hours and days any longer to the vain world, when there is such a world of misery at the very door? Lord, put thine own strength in me; confirm every good resolution; forgive my past long life of uselessness and folly. (Memoir)
So McCheyne would take away from his time in divinity school a passion for holiness and a passion for evangelism. These would never leave him and would become defining impulses of his life — all of it motivated by the beauty of the Rose, and all of it intensified by the thorn of suffering.
Uneventful, Useful Life
The last day of McCheyne's divinity lectures was March 29, 1835. He was just shy of being 22 years old. And that fall he was called to be the assistant minister in the double parish of Larbert and Dunipace. He served there as an assistant until the call came from St. Peter's Church in Dundee in August 1836. There McCheyne served as the pastor until his death six and a half years later.
That's the simple sum of his professional life: a student till he was 22, an assistant pastor for a year, and a senior pastor for six years. As I have tried to think through what makes such an uneventful life so useful even 176 years after his death, it isn't any extraordinary event in his life. Rather, it is his extraordinary passion for Christ — for the Rose — and for holiness and for lost people, all intensified by the shortness of life — the thorn. And all this passion preserved in powerful, picturesque language. He is still influencing us because of the words that came out of his mouth, not the events of his life.
So let's listen to him concerning the pursuit of holiness and concerning his communion with God through the word and prayer.
Take Ten Looks at Christ
God had given McCheyne the gospel key to pursuing personal holiness. He received it through the teaching of Chalmers. Chalmers was very concerned about excessive introspection in the pursuit of holiness. He knew that a believer cannot make progress in holiness without basing it on the assurance of salvation, and yet the effort to look into our sinful hearts for some evidences of grace usually backfires.
Chalmers said that glimpses into the dark room of the heart alone give no good prospect. Instead, he said we should
take help from the windows. Open the shutters and admit the sun. So if you wish to look well inwardly, look well out. . . . This is the very way to quicken it. Throw widely open the portals of faith and in this, every light will be admitted into the chambers of experience. The true way to facilitate self-examination is to look believingly outwardly. (Introduction to The Christian's Great Interest, 6)
McCheyne had written that down in a class and underlined the last sentence. So it is not surprising to hear him give his own counsel in similar terms: "Learn much of the Lord Jesus. For every look at yourself, take ten looks at Christ. He is altogether lovely. . . . Live much in the smiles of God. Bask in his beams. Feel his all-seeing eye settled on you in love. And repose in his almighty arms" (Memoir).
This was the basic strategy in the pursuit of holiness. So when McCheyne spoke what are probably his most famous words, "The greatest need of my people is my own holiness," he meant not only that they need a pastor who is morally upright, but that they need a pastor who is walking in constant communion with Christ, and being changed into Christ's likeness by that constant fellowship. Which brings us now finally to the way he cultivated that constant communion with Christ.
"Jesus has opened a school, in which He trains His redeemed ones, who specially desire it, to have power in prayer. Shall we not enter it with the petition, Lord! It is just this we need to be taught!
O teach us to prayer!" 
"And as we see Him pray, and remember there is none who can pray like Him, and none who can teach like Him, we feel the petition of the disciples, 'Lord, teach us to pray,' is just what we need." 
~ Andrew Murray, With Christ in the School of Prayer, (12).
"Christ is our life: in heaven He ever liveth to pray; His live in us an ever-praying life, if we but trust Him for it. Christ teaches us to pray not only by example, by instruction, by command, by promises, but by showing us Himself, the everlasting Intercessor, as our Life." 
~ Andrew Murray, With Christ in the School of Prayer, (preface)
The Danger of "I" in Christian Prayer
This article is an excerpt from my book, The Prayer that Turns the World Upside Down: The Lord's Prayer as a Manifesto for Revolution. This post is the third in an eight part series on the Lord's Prayer. 
There is No "I" in Prayer: Combating Individualism in Our Prayers
Over the past several decades I have noticed that many Christians tend to begin their prayers by presenting their needs. Of course, in some sense, I understand why we naturally turn to petition almost immediately upon entering into prayer. We tend to begin with petitions because prayer reminds us of our deep need for God to sanctify us in our circumstances and save us from our trials. Additionally, our circumstances and trials are often the very thing that drives us to pray in the first place. Thus the tyranny of the urgent has a remarkable way of consuming our intellectual life and our thought patterns. As a result, our prayers, from beginning to end, are often marked by petition.
But the Lord's Prayer begins in a very different place. Petitions certainly are a part (a major part, in fact) of the Lord's Prayer, but Jesus does not begin with requests. He begins, instead, by identifying the character of the God to whom he prays while at the same time challenging our individualism in prayer. Jesus does all of this in the first two words, "Our Father."
The word "our," at first glance, seems like an insignificant little pronoun. But Jesus is making a tremendously powerful theological point by beginning his prayer with the word "our." Jesus is reminding us that when we enter into a relationship with God we enter into a relationship with his people. When we are saved by Christ, we are saved into his body, the church. In fact, this emphasis on our place in the corporate identity of the church is reiterated throughout the prayer. One way to notice this emphasis is simply to read through the prayer and stress each personal pronoun:
"Our Father in heaven, hallowed be your name. Your kingdom come, your will be done, on earth as it is in heaven. Give us this day our daily bread, and forgive us our debts, as we also have forgiven our debtors. And lead us not into temptation, but deliver us from evil."
Do you notice what is stunningly absent? There is no first-person singular pronoun in the entire prayer! Jesus did not teach us to pray, "My father who is heaven, hallowed be your name. Your kingdom come, your will be done on earth as it is in heaven. Give me this day my daily bread and forgive me my debts as I also have forgiven my debtors. And lead me not into temptation but deliver me from evil." The point is not to deny our own sins or our own needs, but never to leave ourselves there.
One of the besetting sins of evangelicalism is our obsession with individualism. This obsession with individualism chronically besets us as evangelicals. The first-person singular pronoun reigns in our thinking. We tend to think about nearly everything (including the truths of God's Word) only as they relate to me. This is why when Jesus teaches his disciples to pray, he emphasizes from the very outset that we are part of a corporate people called the church. God is not merely "my Father." He is "our Father"—the Father of my brothers and sisters in the faith with whom I identify and with whom I pray.
If we are honest, even many of our prayer meetings fail to take into account Jesus' emphasis on the corporate character of prayer. Yet we must never lose sight of the fact that even when we pray by ourselves, we must pray with an eye toward and with love for Christ's church. We must remember the pattern of our Lord's speech in the model prayer and recall not only the words he used, but the words he didn't use. The first-person singular (I, me, my, mine) is completely absent from the Lord's Prayer. Evidently, prayer should not center on you or me.
The problem of overemphasizing ourselves in our prayers reminds me of G. K. Chesterton's famous answer to a question put forth by a major London newspaper, "What is the problem with the world?" This question was sent to many public intellectuals in Victorian England, many of whom sent back long essays delineating the complexities of everything wrong with the world. Chesterton, however, responded with a simple handwritten note that read, "I am. Sincerely yours, Chesterton."
What is the biggest problem with our prayers? Perhaps the most fundamental answer mirrors Chesterton's: "I am."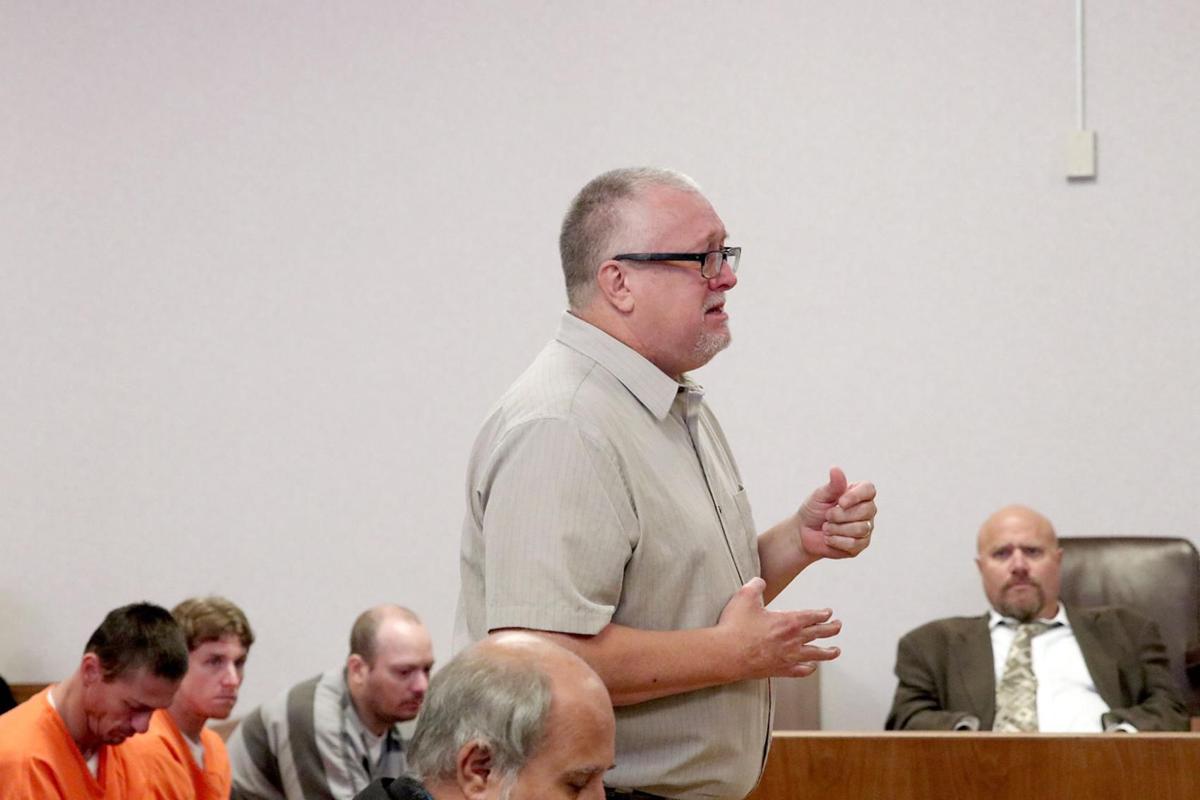 OGALLALA, Neb. — As Cedrick Pals spoke in Keith County District Court on Friday, family members and others in attendance, including jail inmates, wiped tears from their eyes.
Pals' son, Jamison, 29, died on Interstate 80 near Brule nearly two years ago, on July 31, 2016. So did his daughter-in-law, Kathryne, 29, and his grandchildren Ezra, 3; Violet, 23 months; and Calvin, 2 months.
But as Cedrick Pals spoke to Tony Weekly Jr., the truck driver convicted of six counts of motor vehicle homicide, he read Bible verses about forgiveness
In addition to the Pals family, from the Twin Cities area in Minnesota, the crash killed Terry Sullivan, 56, of Denver, who was in another vehicle.
In part because of Cedrick Pals' words and the family's request for mercy, Weekly was sentenced Friday to a combined two years' probation and 180 days in jail on three felony and three misdemeanor charges, and an additional charge of misdemeanor reckless driving. He received credit for 30 days already served. He will begin serving the jail time in two weeks.
Weekly, of Florida, gave his own tearful statement, telling the court that the crash affects him to this day.
Some days, "I can't go to work," he said.
After the sentencing, Pals and Weekly hugged outside the courtroom. They and their families chatted before parting ways.
"I didn't know grief could be so intense, so constant," Pals said in his testimony. "I will never again hear Jamison say, 'I love you, Dad.' "
"Despite the anguish, there are other words that come to me," Pals said.
He listed "forgiveness" and "mercy" among them.