You are currently browsing the monthly archive for August 2018.
"Christ is our life: in heaven He ever liveth to pray; His live in us an ever-praying life, if we but trust Him for it. Christ teaches us to pray not only by example, by instruction, by command, by promises, but by showing us Himself, the everlasting Intercessor, as our Life." 
~ Andrew Murray, With Christ in the School of Prayer, (preface)
The Danger of "I" in Christian Prayer
This article is an excerpt from my book, The Prayer that Turns the World Upside Down: The Lord's Prayer as a Manifesto for Revolution. This post is the third in an eight part series on the Lord's Prayer. 
There is No "I" in Prayer: Combating Individualism in Our Prayers
Over the past several decades I have noticed that many Christians tend to begin their prayers by presenting their needs. Of course, in some sense, I understand why we naturally turn to petition almost immediately upon entering into prayer. We tend to begin with petitions because prayer reminds us of our deep need for God to sanctify us in our circumstances and save us from our trials. Additionally, our circumstances and trials are often the very thing that drives us to pray in the first place. Thus the tyranny of the urgent has a remarkable way of consuming our intellectual life and our thought patterns. As a result, our prayers, from beginning to end, are often marked by petition.
But the Lord's Prayer begins in a very different place. Petitions certainly are a part (a major part, in fact) of the Lord's Prayer, but Jesus does not begin with requests. He begins, instead, by identifying the character of the God to whom he prays while at the same time challenging our individualism in prayer. Jesus does all of this in the first two words, "Our Father."
The word "our," at first glance, seems like an insignificant little pronoun. But Jesus is making a tremendously powerful theological point by beginning his prayer with the word "our." Jesus is reminding us that when we enter into a relationship with God we enter into a relationship with his people. When we are saved by Christ, we are saved into his body, the church. In fact, this emphasis on our place in the corporate identity of the church is reiterated throughout the prayer. One way to notice this emphasis is simply to read through the prayer and stress each personal pronoun:
"Our Father in heaven, hallowed be your name. Your kingdom come, your will be done, on earth as it is in heaven. Give us this day our daily bread, and forgive us our debts, as we also have forgiven our debtors. And lead us not into temptation, but deliver us from evil."
Do you notice what is stunningly absent? There is no first-person singular pronoun in the entire prayer! Jesus did not teach us to pray, "My father who is heaven, hallowed be your name. Your kingdom come, your will be done on earth as it is in heaven. Give me this day my daily bread and forgive me my debts as I also have forgiven my debtors. And lead me not into temptation but deliver me from evil." The point is not to deny our own sins or our own needs, but never to leave ourselves there.
One of the besetting sins of evangelicalism is our obsession with individualism. This obsession with individualism chronically besets us as evangelicals. The first-person singular pronoun reigns in our thinking. We tend to think about nearly everything (including the truths of God's Word) only as they relate to me. This is why when Jesus teaches his disciples to pray, he emphasizes from the very outset that we are part of a corporate people called the church. God is not merely "my Father." He is "our Father"—the Father of my brothers and sisters in the faith with whom I identify and with whom I pray.
If we are honest, even many of our prayer meetings fail to take into account Jesus' emphasis on the corporate character of prayer. Yet we must never lose sight of the fact that even when we pray by ourselves, we must pray with an eye toward and with love for Christ's church. We must remember the pattern of our Lord's speech in the model prayer and recall not only the words he used, but the words he didn't use. The first-person singular (I, me, my, mine) is completely absent from the Lord's Prayer. Evidently, prayer should not center on you or me.
The problem of overemphasizing ourselves in our prayers reminds me of G. K. Chesterton's famous answer to a question put forth by a major London newspaper, "What is the problem with the world?" This question was sent to many public intellectuals in Victorian England, many of whom sent back long essays delineating the complexities of everything wrong with the world. Chesterton, however, responded with a simple handwritten note that read, "I am. Sincerely yours, Chesterton."
What is the biggest problem with our prayers? Perhaps the most fundamental answer mirrors Chesterton's: "I am."
"And the tax collector, standing afar off, would not so much as raise his eyes to heaven, but beat his breast, saying, 'God, be merciful to me a sinner!' "
A young lawyer who had just opened his law practice was sitting in his chair behind his new executive desk, waiting for his first client to come in. When he saw a man walking toward his office, he picked up the phone and began talking to his imaginary assistant. He said, "Yes, I am so busy right now. Ask them to call back. I have so many clients, I just don't have time." He hung up the phone, sure that he had just impressed his first visitor.
"I'm from the phone company," the man said. "I'm here to connect your phone."
That's how it is for us when we try to impress God with things we say and do. Jesus told the story of two men who went up to the temple to pray. One was a Pharisee who prayed, "God, I thank You that I am not like other men-extortioners, unjust, adulterers, or even as this tax collector. I fast twice a week; I give tithes of all that I possess" (Luke 18:11–12 NKJV).
The other was a tax collector who simply said, "God, be merciful to me a sinner!" (verse 13 NKJV).
Jesus said of the tax collector, "This man went down to his house justified rather than the other" (verse 14 NKJV). The primary problem of the Pharisees, the religious elite, was that prayer, for them, was theater. It was a performance. They would stand praying on a street corner, and sometimes someone would sound a trumpet. Jesus was saying that God doesn't care about things like that. They were so concerned with impressing people, but God wasn't impressed.
"In truth there is nothing more thrilling, more solid, more exhilarating, more humanity-restoring, more radiantly joyous, than holiness."
~ Dane Ortlund, Edwards on the Christian Life
by Stacie Marshall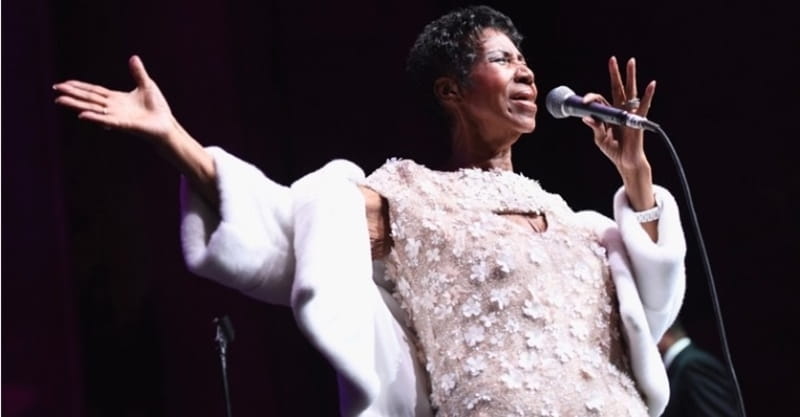 The world mourns the loss of legendary Gospel singer Aretha Franklin who passed away on August 16, 2018. We've compiled 9 Aretha Franklin Gospel hymns to remember the life of this remarkable woman.
Aretha, who was 76-years-old was in hospice care, and her family hopeful that she would pull through. NME reports that the official cause of death was advanced pancreatic cancer, which Aretha has been battling since 2011.
The powerful soul singer will undoubtedly go down in music history. Influenced and inspired by gospel music, Aretha grew up in church.
Aretha spent a lot of time in church when she was younger since she was a 'preacher's kid'. Her dad was the minister at New Bethel Baptist Church, and that was where Aretha discovered her God-given gift for singing. Her faith was very important to Aretha so even as she began to gain fame as a singer, she maintained her gospel roots and never lost her faith.
Franklin released her first album, "Songs of Faith," in 1956. In her 62-year career, Aretha earned an incredible 10 top-10 singles, including "I Say a Little Prayer" and "Respect."
According to Business Insiders Aretha was one of the best-selling female artists in history with 75 million records sold worldwide. Our prayers go out to her family for their loss!
Below, please find nine of our favorite Aretha Franklin gospel songs. These hymns are so good!
In the first point we covered in our little talk about "Revival," we discussed the issue of why we might or might not need revival in the first place. I think we came to an agreement that, while we ought not to need it, that we unfortunately do. We then went on to discuss the […]
If you have more than two children, likely someone has asked you one of the more embarrassing and awkward questions: "Don't you know what causes those?"
At times I've wanted to answer, "No. Would you be willing to explain it to me?" But the truth is, as a mother of five living children and one that died in my womb, I do know what causes those little humans to exist. Just like I know what caused the person who asks such a question to exist. God does.
Often it isn't the children themselves that bother onlookers, but the impracticality of having so many that gets under their skin. They want to know if the kids share rooms, what the grocery bill is like, how we plan to manage college, and most importantly, why we would subject ourselves to so much work.
Queen of Heaven
The people of Judah were just as practical and pragmatic concerning children as people of today, but in an opposite, though just as idolatrous, way. The book of Jeremiah has some terrifying words for them. Jeremiah, God's chosen prophet, warns them over and over of their evil ways, but they are undisturbed. They defy his warnings,
"As for the word that you have spoken to us in the name of the Lord, we will not listen to you. But we will do everything that we have vowed, make offerings to the queen of heaven and pour out drink offerings to her, as we did, both we and our fathers, our kings and our officials, in the cities of Judah and in the streets of Jerusalem. For then we had plenty of food, and prospered, and saw no disaster." (Jeremiah 44:16–17)
The queen of heaven — that nonexistent goddess of fertility and love on whom God's people had set their hearts — was requiring offerings. What did she desire aside from their complete devotion? Drink offerings and fancy cakes with her face on them. The Lord called such idolatry and sacrifices an abomination (Jeremiah 44:4).
Elective Infertility
Picturing the women of Judah foolishly and sinfully baking cakes for their female fertility idol (Jeremiah 44:19) ought to stir our hearts and have us wondering where the finger should be pointed. If sacrifices of drinks and cakes to a false goddess of fertility kindled the Lord's anger to the point that he forbade Jeremiah to pray for the people (Jeremiah 7:16), then what must God think of a society that has made child sacrifice normal for the sake of elective infertility?
What must he think of a society that goes to such great lengths to do away with children, only to go great lengths to acquire other children when the time is right?
Many worship the false queen of heaven in her cloak of personal autonomy.
"…when we learn to regard it (prayer) as the highest part of the work entrusted to us, the root and strength of all other work, we shall see that there is nothing that we so need to study and practise as the art of praying aright." 
~ Andrew Murray, With Christ in the School of Prayer, (preface)
I was in the Texas Big Country, an area famous for its annual Rattlesnake Roundup. My one measure of protection was a pair of plastic chaps, hard enough to deflect the fangs of a rattler, worn over my jeans. But the chaps weren't enough to take me off my guard. Like my childhood hero Indiana Jones, I hated snakes (still do!), and I never knew when a rattler would cross my path. One time I came within about two feet of stepping on one. That experience made me vigilant: I watched where I stepped, listening for any faint hint of a rattle, ready to jump at any sudden movement. Danger felt imminent, and I was watchful.
Spiritual Vigilance
Vigilance is an essential component to the spiritual discipline of watchfulness. To be vigilant is to be on guard. The sentinel of a city is vigilant. He watches for the approach of the enemy. Warriors are vigilant. They're watchful and wary of their antagonist's every move. People become vigilant when they realize they're in jeopardy. As soldiers of the cross, we are surrounded by enemies.
In the words of an old hymn:
Christian, seek not yet repose,
Cast thy dreams of ease away;
Thou art in the midst of foes:
Watch and pray.
Watchfulness, therefore, is as necessary to a healthy spiritual life as meditation and prayer. Jesus tells his disciples to "watch and pray, lest you enter into temptation" (Matt. 26:41). The letters of Paul, Peter, and John sound the same note, urging us to exercise moral vigilance and watchful prayer (1 Cor. 16:13; Gal. 6:1; Col. 4:2; 1 Tim. 4:16; 1 Pet. 4:7; 2 John 8). And Hebrews commands mutual watchfulness and exhortation while also reminding us to obey those leaders who keep watch over our souls (Heb. 3:12; 13:17).
Yet despite this biblical emphasis, watchfulness is one practice that rarely gets mentioned in contemporary manuals of spiritual disciplines.
That hasn't always been the case. In fact, the 17th-century Puritans wrote often about watchfulness and its practical outworking in our lives.
Richard Rogers, for example, was an early Puritan who published a substantial book called Seven Treatises in 1602. Divided into seven parts, the 900-page compendium on Christian living explores the full spectrum of religious life and experience. In the third treatise, Rogers discusses "the means whereby a godly life is helped and continued" and divides these helps into two categories: public and private. The private means include things you might expect, like meditation, prayer, and fasting.
But first on Rogers's list of private helps is watchfulness, "which is worthily set in the first place, seeing it is as an eye to all the rest, to see them well and rightly used."
The implication is clear: neglect watchfulness and you will hinder other spiritual practices. Watchfulness is the whetstone of the spiritual disciplines, the one practice that keeps the other habits sharp.
Guard Your Heart
The discipline of watchfulness includes both negative and positive aspects. Negatively, we're to ruthlessly guard our hearts from sin and temptation, making no provision for the flesh (Prov. 4:23; Matt. 26:41; Rom. 13:14).
This requires the cultivation of self-examination, where we take regular inventory of our personal tendencies towards particular sins, what the Puritan Isaac Ambrose called "Delilah sins." Delilah sins, like Samson's Philistine mistress, like to sit on our laps and whisper sweet nothings in our ears, but they will betray us to our foes in a heartbeat and cut off our moral strength. These are the specific sin patterns we've cultivated through willful and habitual sin. Like deep ruts that furrow a muddy road, these vices are etched into our lives through daily routines, self-justifying rationalization, and continual repetition.
Having identified these sin patterns, we then need to persistently protect the points of entry to the heart. John Bunyan, in his allegory The Holy War, refers to these entry points as five gates to the city of Mansoul: "Ear-gate, Eye-gate, Mouth-gate, Nose-gate, and Feel-gate." When we fail to watch, temptation clambers into our hearts through an unwatched gate. This means we can't tend our hearts without considering the websites we visit, the books we read, the shows and movies we watch, the places we frequent, and the music and messages that fill our ears.
The discipline of watching is like a home security system. An effective surveillance system includes several components, such as security cameras, motion sensors, floodlights, electric locks, and high-decibel alarms. All these components serve one purpose: protecting the home from dangerous intruders. In similar fashion, watchfulness embraces a variety of practices, such as self-examination, prayer, meditation, and accountability, but all governed by the single intention of keeping the heart.
Look to Jesus
But there's also a positive dimension to watchfulness. We mustn't only mortify sin and avoid temptation. We must also set our gaze on Jesus. To return to the city metaphor, we mustn't only guard the gates of our souls from dangerous intruders but also store our hearts with the gospel. Our goal in keeping our hearts isn't to keep them empty, but to make room for Christ to dwell in our hearts through faith (Eph. 3:17).