You are currently browsing the monthly archive for July 2018.
"Revival is the visitation of God which brings to life Christians who have been sleeping and restores a deep sense of God's near presence and holiness. Thence springs a vivid sense of sin and a profound exercise of heart in repentance, praise, and love, with an evangelistic outflow."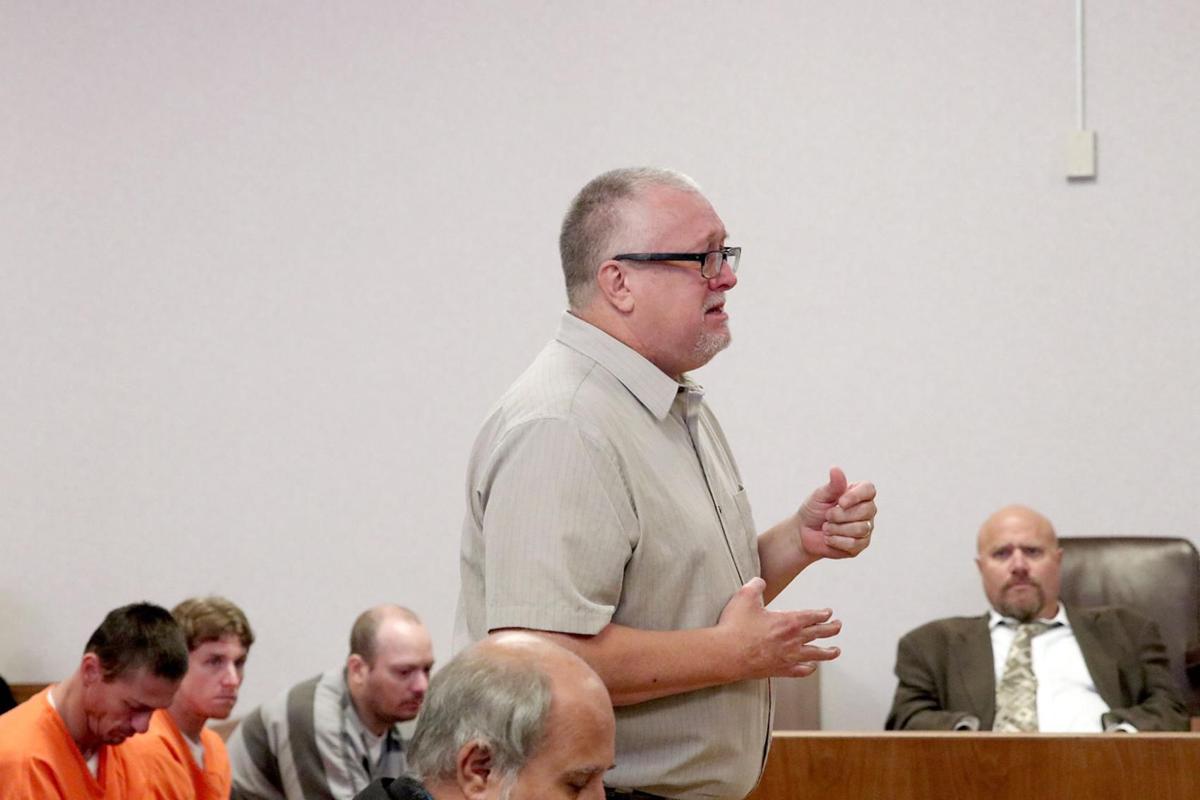 OGALLALA, Neb. — As Cedrick Pals spoke in Keith County District Court on Friday, family members and others in attendance, including jail inmates, wiped tears from their eyes.
Pals' son, Jamison, 29, died on Interstate 80 near Brule nearly two years ago, on July 31, 2016. So did his daughter-in-law, Kathryne, 29, and his grandchildren Ezra, 3; Violet, 23 months; and Calvin, 2 months.
But as Cedrick Pals spoke to Tony Weekly Jr., the truck driver convicted of six counts of motor vehicle homicide, he read Bible verses about forgiveness
In addition to the Pals family, from the Twin Cities area in Minnesota, the crash killed Terry Sullivan, 56, of Denver, who was in another vehicle.
In part because of Cedrick Pals' words and the family's request for mercy, Weekly was sentenced Friday to a combined two years' probation and 180 days in jail on three felony and three misdemeanor charges, and an additional charge of misdemeanor reckless driving. He received credit for 30 days already served. He will begin serving the jail time in two weeks.
Weekly, of Florida, gave his own tearful statement, telling the court that the crash affects him to this day.
Some days, "I can't go to work," he said.
After the sentencing, Pals and Weekly hugged outside the courtroom. They and their families chatted before parting ways.
"I didn't know grief could be so intense, so constant," Pals said in his testimony. "I will never again hear Jamison say, 'I love you, Dad.' "
"Despite the anguish, there are other words that come to me," Pals said.
He listed "forgiveness" and "mercy" among them.
"Revival is not just an emotional touch; it's a complete takeover!"
"Real revival does not begin with joyous singing. It begins with conviction and repentance on the part of Christians."     
"We talk of the Second Coming; half the world has never heard of the first"
"To be a Christian without prayer is no more possible than to be alive without breathing."
One of the most liberating discoveries of my life has been coming to find that God does not pursue his people through coercion but by winning us from the heart. True Christianity cannot be coerced. God works — through his word and his Spirit — from the inside out. The faith "once for all delivered to the saints" (Jude 3) is indeed at its heart a faith, not an action, as it advances not by the sword of coercion and military campaign, but by the sword of the Spirit and the movement of souls.
What God says to, and expects from, pastors tells us how he wins people. It's powerfully revealing. Church leaders are first and foremost sheep, and not above the flock. "Do not rejoice in this, that the spirits are subject to you," says the good shepherd, "but rejoice that your names are written in heaven" (Luke 10:20). And what Peter has to say about how pastors should serve is an insightful description of the heart of the everyday Christian life: "not under compulsion, but willingly, as God would have you; not for shameful gain, but eagerly" (1 Peter 5:2).
Linger with me over what it means for our faith not to be "under compulsion" or "for shameful gain," but willing and eager.
Not Under Compulsion
Where do we find compulsion in the New Testament? On the darkest day in the history of the world, Roman soldiers compelled a passerby, Simon of Cyrene, to carry Jesus's cross (Matthew 27:32; Mark 15:21). And three times in Galatians, Paul mentions false teachers trying to force Gentile Christians to do what they do not want to do, namely, be circumcised (Galatians 2:3, 14; 6:12). Roman soldiers and false teachers don't major on making appeals to the heart. They aim at external conformity, not the joy of faith (Philippians 1:25; 2 Corinthians 1:24). They seek to force or compel others to do what they don't want to do. But such is not the case with Christianity.
Rather, when Paul, as an apostle, could have commanded Philemon, he chooses instead, for love's sake, to appeal to him (Philemon 8–10). "I preferred to do nothing without your consent in order that your goodness might not be by compulsion but of your own accord" (Philemon 14). And when he invites the Corinthians to contribute to the relief of the impoverished saints in Jerusalem, he wants each person to "give as he has decided in his heart, not reluctantly or under compulsion, for God loves a cheerful giver" (2 Corinthians 9:7).
God wants us to be willing, not feel obligated. His people rejoice to give willingly, with their whole hearts, "offering freely and joyously" to him (1 Chronicles 29:9, 17). He wants our generosity to be "as a willing gift, not as an exaction" (2 Corinthians 9:5). It is "a willing spirit" that tastes the joy of his salvation (Psalm 51:12), and it is a glory to our King when his people "offer themselves freely" to his worship and service (Psalm 110:3). Christian faith cannot be forced. God wants to win us from within, and empower Christians by his Spirit to live willing, freely, from the heart.
Not for Shameful Gain
But "inside out" alone is not enough. Some desires of the heart are holy, righteous, and good; others are not. Whereas "compulsion" or "force" comes from the outside, the desire for "shameful gain" comes from within. So 1 Peter 5:2 is not just saying don't be forced from without, but also don't be driven from within by sinful (selfish) desires, but rather by righteous desire.
So, what does it mean to be motivated by shameless desire, instead of shameful? C.S. Lewis helps us with the nature of rewards and righteous desire in the Christian life:
There are rewards that do not sully motives. A man's love for a woman is not mercenary because he wants to marry her, nor his love for poetry mercenary because he wants to read it, nor his love of exercise less disinterested because he wants to run and leap and walk. Love, by its very nature, seeks to enjoy its object. (The Problem of Pain)
It is not enough that we would live simply from desire and willingness, and not compulsion and obligation. We want to live from righteous desire, not for shameful or sinful gain — desire that is fitting to its object. But don't think that means we do not live for gain!
"Take care of giving up your first zeal; beware of cooling in the least degree. Ye were hot and earnest once; be hot and earnest still, and let the fire which once burnt within you still animate you. Be ye still men of might and vigor, men who serve their God with diligence and zeal."
"Revival is an infusion of new spiritual life imparted by the Holy Spirit to existing parts of Christ's body."
Back-to-Back First Responders Homicide PrayerWalks: Friday, July 6th – 5:30 PM at 31st & Jackson,  AND 6:15 PM at Jackson Tower (27th & St Marys Ave.) 
Two murders last night within a few blocks of each other.
5:30 PM at Jackson & 31st STREET:  Around 10:00 p.m Wednesday, July 4. Officers responded to Jackson & 31st STREET to investigate a cutting and located an adult male victim who was transported to the Nebraska Medical Center and died as a result of his injuries. The victim's name will be released once next-of-kin are notified. Aldo Guizar-20 has been booked at Douglas County Corrections for 2nd-Degree Murder and Use of a Weapon to Commit a Felony.
6:15 PM at Jackson Tower – 27th & St Marys Ave:
Around 4:20 a.m. on Thursday morning,  July 5th, officers were called to the back of the Jackson Tower where they located Roderick Moore Jr-19 deceased from a gunshot wound.  Local Ministry Leaders who conduct Bible Studies in Jackson Tower have told us that a number of their group will participate in the PrayerWalk.
Directions:  Highly recomend clicking here for a Google Map, then click on the addresses on left side: 
At 5:30 meet at Jackson & 31st STREET (not AVE)…    Then at 6:15 PM at Jackson Tower – 27th & St Marys Ave. 
NOTE: 31st Street is a One-Way South & St Marys Ave is a One-Way West. 
Suggest going South to Leavenworth then East across 480-FWY to 27th and back North 1Blk to St. Marys. (Parking on NE corner and along 27th).
Depending on response at 31st & Jackson, some team members may stay for a bit longer.  It is 5-6 Blks between the sites if you want to PrayerWalk between them.
AT Jackson Towers meet near the front entrance and then as part of the PW we may take those who feel led to the spot where the homicide happened to pray there and around the Tower area.
Thank You for helping to make a difference in reducing violence in our city. 
Blessings,
Dave Gehrls
Christ For The City Omaha
First Responders Homicide PrayerWalks
402-651-3136
dave@cfci.org
About First Responders PrayerWalking:
The Bible says that human bloodshed is violence to the land and all its inhabitants.FirstResponders helps to mobilize the body of Christ to timely onsite prayer at crisis events in our community. We want to say to victims and neighborhoods: "You are not alone! We are from churches all over Omaha coming together to stand united against violence."
FirstResponders PrayerWalks are a community response to violence. They are not prayer-vigils on behalf of the family. Family members are invited if we have contact info, and our team reaches out to care and minister to them as Jesus would.
FirstResponders encourages people in neighborhoods to connect and get involved with local churches and organizations. We work to help people get to know their local police better, communicate, build trust and work with our police in reducing violence.
In 2007 John Ewing and Dave Gehrls developed First Responders in partnership with Omaha 360, Empower Omaha, OPD, and other local groups.  More information is at prayerwalking.gehrls.net
 or if you would like to be added to the First Responder team, send an email to dave@cfci.org with your personal contact info and the church you attend.