You are currently browsing the monthly archive for June 2018.
A prayer for Sunday morning
Today we celebrate Your magnificent splendour
For by Your hand You placed time in motion
From the first day of creation until this day
Your creative wonders have filled the universe
Today we celebrate Your mighty power
For by Your hand you raised Christ from the grave
From resurrection Sunday until this day
Your love has given life to all mankind
Father we thank you for today
We give this special day over to You
May we rest in Your presence
Bathe in Your goodness
And celebrate Your eternal life
This day and always
Amen!
(A modern prayer for Sundays from http://www.lords-prayer-words.com)
"If Christianity is to receive a rejuvenation, it must be by other means than any now being used. If the Church in the second half of this century is to recover from the injuries she suffered in the first half, there must appear a new type of leader. The proper, ruler-of-the-synagogue type will never do. Neither will the priestly type of man who carries out his duties, takes his pay and asks no questions, nor the smooth-talking pastoral type who knows how to make the Christian religion acceptable to everyone. All these have been tried and found wanting.
Another kind of religious leader must arise among us. He must be of the old prophet type, a man who has seen visions of God and has heard a voice from the Throne. When he comes (and I pray God there will be not one but many), he will stand in flat contradiction to everything our smirking, smooth civilization holds dear. He will contradict, denounce and protest in the name of God and will earn the hatred and opposition of a large segment of Christendom. Such a man is likely to be lean, rugged, blunt-spoken and a little bit angry with the world. He will love Christ and the souls of men to the point of willingness to die for the glory of the One and the salvation of the other. But he will fear nothing that breathes with mortal breath."
~A.W. Tozer, The Size of the Soul, 128-129.
"Many times, prayer is the most practical thing you 'do' to encourage change."
~ Mark Dever & Jamie Dunlop, The Compelling Community, 132.
Strive for peace with everyone, and for the holiness without which no one will see the Lord. (Hebrews 12:14)
There is a practical holiness without which we will not see the Lord. Many live as if this were not so.
There are professing Christians who live such unholy lives that they will hear Jesus's dreadful words, "I never knew you; depart from me, you workers of lawlessness" (Matthew 7:23). Paul says to professing believers, "If you live according to the flesh you will die" (Romans 8:13).
So, there is a holiness without which no one will see the Lord. And learning to fight for holiness by faith in future grace is supremely important.
There is another way to pursue holiness that backfires and leads to death. Paul warns us against serving God any other way than by faith in his enabling grace. God is not "served by human hands, as though he needed anything, since he himself gives to all mankind life and breath and everything" (Acts 17:25). Any effort to serve God that does not, in that very act, depend on him as the reward of our hearts and the power of our service, will dishonor him as a needy pagan god.
Peter describes the alternative to such self-reliant service of God, "Whoever serves, [let him do so] as one who serves by the strength that God supplies — in order that in everything God may be glorified through Jesus Christ" (1 Peter 4:11).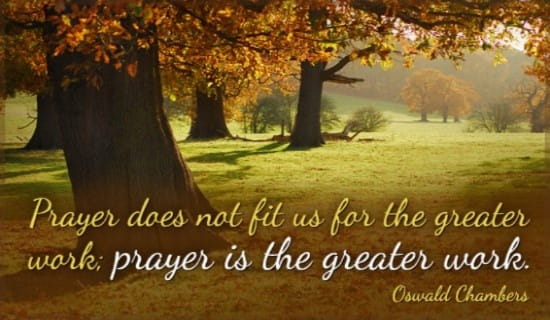 "Prayer is the way you defeat the devil, reach the lost, restore a backslider, strengthen the saints, send missionaries out, cure the sick, accomplish the impossible, and know the will of God."
"Oh for a great and general revival of true religion…Let us pray for such a visitation of the Holy Ghost with our whole souls. It is not only desirable, it is essential; we must either be revived by the Lord Himself, or the churches will descend until error and ungodliness swallow them up. This calamity shall not happen but only divine grace can avert it."
"O, prostitute Church, you have displayed your foulness to the whole world and you stink to Heaven. You have multiplied your fornications in Italy, in France, in Spain and in all other arts. Behold, I will put forth my hand, says the Lord, I will smite you, you infamous wretch… O priests…you whose example has entombed this people in the sepulchre of ceremonial, I tell you this sepulchre shall be burst asunder, for Christ will revive His Church in His Spirit."
~ Savonarola (shortly before his martyrdom in 1498 when he was burnt at the stake)
"The one thing needful for the church, and the thing which, above all others, men ought everywhere to seek for with one accord and with their whole heart, is to be filled with the Spirit of God."
~ Andrew Murray, The Full Blessing of Pentecost, vii.
"Leaders must be released from the idea that they must be great prayer warriors before they can begin to call others to prayer."