You are currently browsing the category archive for the 'Current Revivals' category.
I am deeply saddened by the President's praise of abortion. 55 million abortions is a Holocaust. We face implosion.
January 22, 2014 

UPDATED: Since 1973, Americans have had more than 55 million abortions. Unless we change course, the number will soon be 60 million.
Consider the horror of that fact. We as a nation will soon have murdered ten timesmore Americans than the number of Jews that the Nazis killed during the Holocaust.
How is this possible? How have we come to this point? The murder of 55 million human beings is a Holocaust.
We must call it what it is. We must be honest with the facts, and the implications.
This must stop. We must stop it, before it is too late — before we face implosion, or judgment, or both.
What do we think we come of all this? Will we not face the judgment of the Almighty God, unless we cry out in true repentance to the Lord? Did we not see the judgment that came upon Germany in World War II, the devastation and destruction? Do we expect to suffer less when our sins are ten times worse?
I am deeply saddened today by President Obama's statement praising the Supreme Court's Roe v. Wade decision of 1973 legalizing abortion.
"Today, as we reflect on the 41st anniversary of the Supreme Court decision in Roe v. Wade, we recommit ourselves to the decision's guiding principle: that every woman should be able to make her own choices about her body and her health," the President stated. "We reaffirm our steadfast commitment to protecting a woman's access to safe, affordable health care and her constitutional right to privacy, including the right to reproductive freedom. And we resolve to reduce the number of unintended pregnancies, support maternal and child health, and continue to build safe and healthy communities for all our children. Because this is a country where everyone deserves the same freedom and opportunities to fulfill their dreams."
Mr. President, how is abortion-on-demand a "safe and healthy community for all our children"?
by JOE CARTER
The Story: Last week at the Texas Capitol, pro-abortion protesters shouted, "Hail Satan!" in an attempt to drown out pro-lifers' rendition of "Amazing Grace." But on Twitter the United Kingdom's Church of Satan said it was "Unfortunate to see Satan's name used in such a diabolical manner."
The Background: Texas blogger Adam Cahm, who recorded the video below, says, "For the record: They've been doing this all day, this is just the first time we caught it on video."
After the story broke, the UK Church of Satan tweeted
Unfortunate to see Satan's name used in such a diabolical manner. Another example of what 'Satanism' doesn't represent. #HailSatan
— UK Church of Satan (@UKChurchofSatan) July 3, 2013
They later added:
Why wouldn't Satanism be pro-life? What else is there? We are all free to make choices. Agreeable or not. Everyone is entitled to choice.
What It Means: It's doubtful either the abortion supporters chanting "Hail Satan!" or the Satanists denouncing them believe in the reality of the Evil One. They think the abortion issues is about them, and their choices. But they're wrong: abortion is about God.
As John Piper has explained, the ultimate evil of abortion is not that it kills children or that it damages women—which it does. "The ultimate evil," he said, "is that it assaults and demeans God." But that, he says, "is what the gospel of Jesus Christ is about. How God planned and brought about a plan to forgive people who have committed the ultimate outrage of discounting his glory and treating it as less valuable than their own private preferences."
Piper continues by stating that leaving God out of the picture trivializes abortion.
Today, I took a vacation day and drove two and half hours from Omaha NE to Dannebrog NE (Where I was a pastor from 1985 to 1993) to fish with a dear friend, Dan. He was saved one Sunday when I gave an invitation during a Sunday morning sermon to repent and turn to Jesus for salvation. Dan has followed Jesus ever since!
The fishing was awesome! I am sunburn!
The fellowship was better!
Dan told me that recently he was praying and he ended up praying an hour on his knees!
That is how revival comes!
May we all spend much, much time on our knees in prayer!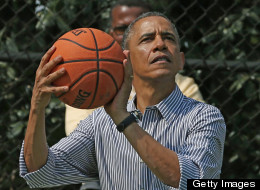 President Obama called NBA player Jason Collins, after the athlete publicly came out as gay. (Photo by Mark Wilson/Getty Images)
WASHINGTON — President Barack Obama called Jason Collins on Monday to express his gratitude after the NBA playerpublicly announced that he is gay, two sources familiar with the call told The Huffington Post.
A White House official confirmed the call, saying that the president wanted to "express his support" and tell Collins that "he was impressed by his courage."
The conversation took place several hours after Sports Illustrated published an essay by Collins in which he came out and explained why he had waited until now to make the announcement.
Let us continue to pray for the church, our nation and our President.
We Hate to Say We Told You So"'
By: John Stonestreet|Published: April 25, 2013
Claims that legalizing same-sex "marriage" is a slippery slope to polygamy have been met with scoffs. We really hate to say "we told you so…" Stay tuned to BreakPoint.
In a scene from Jurassic Park, Ian Malcolm, the mathematician skeptical about whether the park is a good idea, watches the T-Rex burst out of its enclosure and says, "I hate being right all the time."
Princeton Professor Robert George and other defenders of traditional marriage understand these sentiments. For years, they've warned that redefining marriage beyond the union of one man and one woman wouldn't—indeed couldn't—stop with same-sex unions. The same reasoning that extends marriage to same-sex couples would easily be applied to polygamy and polyamory also.
The standard response to these concerns was scoffing and accusations of fear mongering.
Well, the fences are down and the beast is loose.
On Valentines's Day, the Scientific American published an article claiming that polyamorists could "teach us a thing or two about love," and the only reason to oppose it was bigotry because of outdated views about love and sexuality. As I said on my Point commentary about the article, the flow of the argument sounded far too familiar.
And now, as if on cue, Slate magazine published an article on April 15 by Jillian Keenan arguing that polygamy should be legalized. As Keenan notes, the arguments about gay marriage being a "slippery slope" that will lead to legalized polygamy is something "we've been hearing about for years." To which she adds, "We can only hope."
She continues: "While the Supreme Court and the rest of us are all focused on the human right of marriage equality, let's not forget that the fight doesn't end with same-sex marriage. We need to legalize polygamy, too. Legalized polygamy in the United States is the constitutional, feminist, and sex-positive choice."
Keenan adds that legalizing polygamy would help to "protect, empower, and strengthen women, children, and families." How? By ending the "isolation" where "crime and abuse can flourish unimpeded." That is, if polygamy is legal, she says, victims of abuse would be more likely to report abuses to the authorities.
Finally, she argues that respect for religious freedom requires legalizing polygamy. It isn't only fundamentalist Mormons she's concerned about: she cites "academics" who "suggest" that there may be between 50 and 100,000 Muslims in the U.S. who practice polygamy.
What's most significant here isn't the quality of Keenan's arguments. The quality is poor. The treatment of women in countries where polygamy is legal makes her optimism about the impact of legalizing it seem dangerously naive. And her appeal to religious freedom is—shall we say—selective. There are plenty of law-abiding Americans whose religious freedom is under genuine threat who could benefit from this kind of solicitude.
No, the most significant thing about Keenan's argument is not, to paraphrase Samuel Johnson, that it's made well, but that it's made openly.
As Dr. George pointed out in "First Things," when Christians pointed out the logical link between same-sex marriage and polygamy, proponents of same-sex marriage rejected the connection. They insisted that "no one is arguing for the legal recognition of polygamous or polyamorous relationships as marriages!"
I am saddened by the news today of the death of Matthew Warren, son of my friends Rick and Kay Warren. Many of us, both inside the church and outside, have been praying for Matthew for several years, so this is a sad moment for the Warrens and many others.
Rick sent the following email to his staff at Saddleback, and it was published online by Charisma Magazine:
Over the past 33 years we've been together through every kind of crisis. Kay and I've been privileged to hold your hands as you faced a crisis or loss, stand with you at gravesides, and prayed for you when ill. Today, we need your prayer for us.

No words can express the anguished grief we feel right now. Our youngest son, Matthew, age 27, and a lifelong member of Saddleback, died today.

You who watched Matthew grow up knew he was an incredibly kind, gentle, and compassionate man. He had a brilliant intellect and a gift for sensing who was most in pain or most uncomfortable in a room. He'd then make a beeline to that person to engage and encourage them.

But only those closest knew that he struggled from birth with mental illness, dark holes of depression, and even suicidal thoughts. In spite of America's best doctors, meds, counselors, and prayers for healing, the torture of mental illness never subsided. Today, after a fun evening together with Kay and me, in a momentary wave of despair at his home, he took his life.

Kay and I often marveled at his courage to keep moving in spite of relentless pain. I'll never forget how, many years ago, after another approach had failed to give relief, Matthew said, "Dad, I know I'm going to heaven. Why can't I just die and end this pain?" but he kept going for another decade.
Charisma Magazine has more on the story here. Greg Laurie also has a post on his site that is worth reading.

"They did eat of the fruit of the land of Canaan that year." 
Joshua 5:12
Israel's weary wanderings were all over, and the promised rest was attained. No more moving tents, fiery serpents, fierce Amalekites, and howling wildernesses: they came to the land which flowed with milk and honey, and they ate the old corn of the land. Perhaps this year, beloved Christian reader, this may be thy case or mine. Joyful is the prospect, and if faith be in active exercise, it will yield unalloyed delight. To be with Jesus in the rest which remaineth for the people of God, is a cheering hope indeed, and to expect this glory so soon is a double bliss. Unbelief shudders at the Jordan which still rolls between us and the goodly land, but let us rest assured that we have already experienced more ills than death at its worst can cause us. Let us banish every fearful thought, and rejoice with exceeding great joy, in the prospect that this year we shall begin to be "for ever with the Lord."
A part of the host will this year tarry on earth, to do service for their Lord. If this should fall to our lot, there is no reason why the New Year's text should not still be true. "We who have believed do enter into rest." The Holy Spirit is the earnest of our inheritance; he gives us "glory begun below." In heaven they are secure, and so are we preserve in Christ Jesus; there they triumph over their enemies, and we have victories too. Celestial spirits enjoy communion with their Lord, and this is not denied to us; they rest in his love, and we have perfect peace in him: they hymn his praise, and it is our privilege to bless him too. We will this year gather celestial fruits on earthly ground, where faith and hope have made the desert like the garden of the Lord. Man did eat angels' food of old, and why not now? O for grace to feed on Jesus, and so to eat of the fruit of the land of Canaan this year!
Imagine the potential of Christians from all different churches and ministries at a school joining together in united prayer. See You At The Pole brings teenagers to their school flagpoles to intercede for other students, their schools, families and nation, asking God to bring moral and spiritual awakening.
See You at the Pole is a student-initiated, student-organized, and student-led event taking place the fourth Wed every September.
This years date: September 26, 2012. For the rest of the post…
Revivals are always preceded by prayer and often begin with the younger generations. May God bring revival to our nation!
Bryan  
According to a new report released by the National Climatic Data Center today, the 2012 drought disaster is now the largest in over 50 years, and among the ten largest of the past century. Only the extraordinary droughts of the 1930s and 1950s have covered more land area than the current drought. 55 percent of the contiguous United States was under moderate to extreme drought in June.
Last Thursday, the U.S. Dept. of Agriculture declared 1,000 counties in 26 states disaster areas because of drought.
Here in Indiana, some parts of the state had the driest month of June on record. Indianapolis had less than 1/1oth of an inch of rain during the month. Burn bans have been in place since Memorial Day and now cover the entire state, and many municipalities have now put watering bans in place.
Forecast for this week here: Most days in the mid-90′s with heat advisories, cooling off to the upper 80′s. There's only a small chance for scattered showers on any given day.
Today the blower motor on our central air conditioning went out. It has run constantly for two months.
They say we need 4-6 inches of rain over a two-week period just to bring us back to our normal hot, dry summer conditions.
Last week, 22 people in Chicago died from heat-related causes.